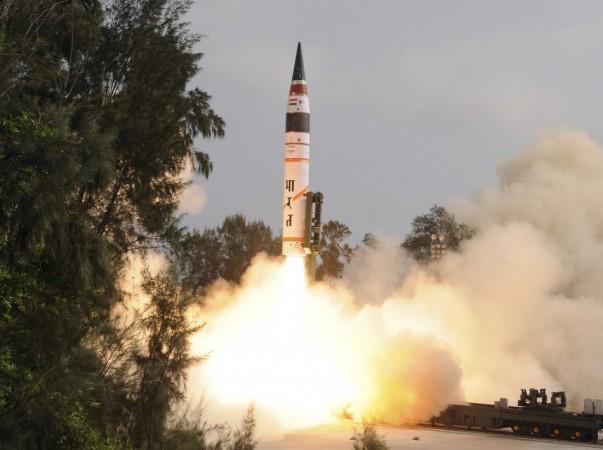 India is still in celebration mood following the successful launch of Agni-V, its first Inter-continental Ballistic Missile (ICBM) on Thursday (April 18) but China thinks India will be helpless without the support of other countries.
Global Times, owned by the Communist Party of China, said that India rely too much on other countries for its weapons.
"India faces a huge vulnerability. More than 80 percent of its critical weapons systems are imported from France, the US, Russia and Israel. If these countries cut off supplies or ammunition during a conflict, India would be helpless," said Global Times.
"India's recent military output, including a strategic growth in nuclear forces and arms purchasing, is designed to catch the eye. But for how long can borrowed weaponry lead to genuine security?" it questioned.
Global Times said importing weapon is risky. "The fact is, weapons systems imported from abroad are subject to a massive risk of supply disruption. Those in India who celebrate because the country has become a favorite destination of international arms dealers are just being foolish. Sadly, it is easy to please the Indian government. All that is needed is flattery," it said.
The media house owned by the Communist Party of China also claimed that India succumbed to pressure from NATO.
"The Manmohan Singh government, because of pressure from NATO member countries, has kept a slow pace with their Integrated Guided Missile Program (IGMP). The Agni-V is deemed to be in its final stage, whereas in fact the IGMP ought to have progressed to develop a range of 9,000 kilometers," said Global Times.
"The celebrations over the missile conceal the inadequacies and slow pace of the program, and hide the fact that successive Indian governments have capitulated to pressure from NATO to restrict the range and power of their launch vehicles," it added.
In the meantime, the paper said that India and China should keep a check on other countries trying to create tension between the countries and focus on common threat.
"Both countries should beware of efforts to create widespread fear and tension. Bad relations between India and China will hurt both countries and aid those who seek to subjugate Asia and the world. Both Indian and Chinese commentators need to look at the bigger picture and focus on the common threat faced by both peoples; the efforts to derail their nation's development and weaken them internally," said the paper.
"Although there is an international effort to paint India and China as enemies and to make the two countries go to war with each other, such an effort will fail. The Chinese and Indian people share a long history and culture, and what is needed is more discussion between the two about their economics, education, tourism and culture," it added.
The state-owned paper concluded by stressing the need to work together to make Asian strong.
"We must create so many bridges of friendship that the plans of other countries to make China and India into enemies will fail. Together, India and China can make Asia strong. Divided, not only these two countries but all of Asia will remain weak," it said.