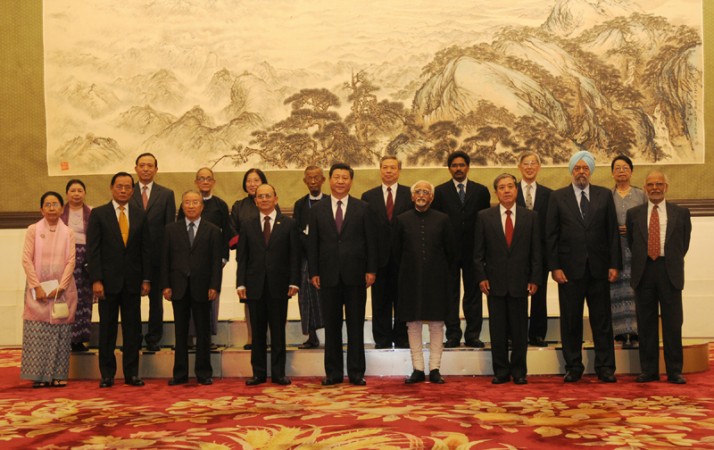 Foreign Secretary Sujata Singh has stated that India has raised all issues of concern with the Chinese government, including the neighbouring country's invasion into Indian territories, during Vice President Hamid Ansari visit to China.
Ansari has been on a five-day visit to China from 26 to 30 June. The Indian Vice President met Chinese Prime Minister Li Keqiang at the Great Hall of the People in Beijing on Saturday.
While replying to a question on Chinese companies planning a railway line to link the country with Pakistan through the Pakistan-occupied Kashmir (PoK), Singh said that India has also raised its concerns on Chinese intrusions into Indian territories.
She added that the Indian officials raised the issue of a new Chinese map, showing Arunachal Pradesh as a part of China.
"A cartographic description cannot change the facts on the ground. Our opposition to the areas shown in the map will always be there," ANI quoted her.
Singh added that on its part China also raised its concerns about India but refused to go into details. Both India and China stressed the importance of maintaining peace on the border, she added.
Singh said Chinese Premier Li suggested that India should identify products that would be of interest to Chinese buyers, in order to resolve the problem of trade deficit between the two countries.
Indian Ambassador Ashok Kantha said that India encouraged China, which is strong in manufacturing sector, to set up production units in India. He added that encouraging Chinese manufacturing in India is part of India's strategy to address its problem of trade deficit.
Meanwhile, the Indian Vice President addressed the "Commemoration of the 60thAnniversary of the Five Principles of Peaceful Coexistence" in the Great Hall of People, Beijing in China on Saturday.
He said that the pursuit of world peace is a fundamental tenet of India's foreign policy. It draws inspiration from its ancient civilisational value of considering the world as one family.
Even before India became an independent nation, the leaders of our freedom struggle had outlined the fundamental precepts and values that embody the Five Principles of Peaceful Existence or Panchsheel. The Constitution of India enjoins the State to promote international peace and security and to maintain just and honourable relations between nations.
"Speaking in our Parliament the then Prime Minister Nehru had referred to Lord Buddha's use of Panchsheel as a moral concept and had welcomed it. In Myanmar, Panchsheel has deep roots in its Buddhist traditions. In China, Confucius had emphasised harmony in the midst of differences," Ansari said.
"It is thus evident that Panchsheel emanated from the civilizational matrix of Asia and is Asia's contribution towards building a just and democratic international order. Ancient ideals of Panchsheel, envisioned by our three countries, in the modern form are of continuing relevance in the changed world of today and will remain so in the world of tomorrow."