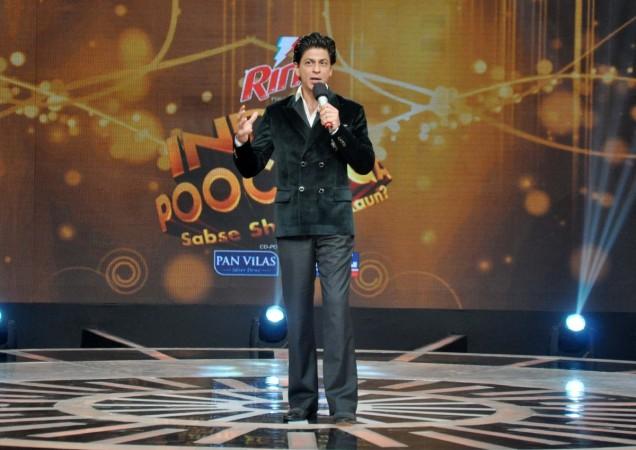 People on the sets of Shah Rukh Khan's "India Poochega – Sabse Shaana Kaun?" escaped a disaster on the evening of 25 February when a generator went up in flames due to a wiring short circuit, but the fire was doused within 10 minutes.
The superstar was rehearsing for the finale with best buds Karan Johar and Farah Khan, along with Anushka Sharma and Alia Bhatt. Reports suggest as soon as the superstar stepped on stage, the lights flickered and went off. However, the situation was brought under control by Chembur fire fighters.
"Yes, we received a call around 7.45 pm and one fire engine rushed to the spot. The fire was due to a short circuit in the wiring and was doused in 10 minutes and there were no injuries," an official said, Mumbai Mirror reports.
The incident was confirmed by RK Studio as well as show producer Siddharth Basu. "There has been a power failure which has been restored," said Basu.
Interestingly, Shah Rukh has a novel take on the incident. He wrote on Twitter, "Want to share that the heat at rk studio tonight was from the warmth of the four friends who came on sabse shaana kaun. Grateful...forever!."
Slated to air on 2 March, 9 pm onwards on &TV, "India Poochega – Sabse Shaana Kaun?" has a new concept. SRK, who has been running on a tight schedule lately, reportedly said even though he was strapped for time, meeting new people via the TV show gave him immense happiness.
"I have always maintained that I come from a very common background like many other people in India. Sometimes some very special things happen to people, you become popular, famous and successful but you don't compartmentalise it. I really want to see people have that one opportunity which gives them that one chance," he said, according to PTI.
In other news, SRK will next be seen in Maneesh Sharma's "Fan", Rahul Dholakia's "Raees" and Rohit Shetty's untitled film.