Highlighting the country's growth potential to woo investors, Minister of State for Finance Jayant Sinha said on Friday the Indian economy will touch $4-5 trillion in about 10 years.
"You might not find a better opportunity to create wealth. It's great time to invest in India.We are going to take India's $2 trillion economy to $4-5 trillion economy in the next 10-12 years," he said.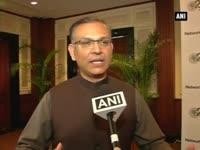 He was speaking at an event organised by Indian Private and Venture Capital Association in New Delhi.
The World Bank ranks India as the world's 10th largest economy, at almost $1.9 trillion.
Sinha said that the rupee has remained relatively steady due to strong foreign capital inflows, indicating that India is already a good investment destination.
He assured venture capitalists and private equity players that their concerns on taxation will be addressed in the current Budget, but declined to into specifics.
Sinha said the government's vision for Mumbai was to develop it as a major international finance centre on the lines of Singapore and London.
Sinha was earlier the Managing Director of philanthropic investment firm Omidyar Network India Advisors, read EconomicTimes.
A few days ago, Union Finance Minister Arun Jaitley had stressed the need for tax reforms and faster decision-making for a stable taxation policy regime. "In order to make best use of this opportunity, we have to address two major concerns that is quick decision making and stability in policy matters, and reforms in tax structure and administration," he had said.