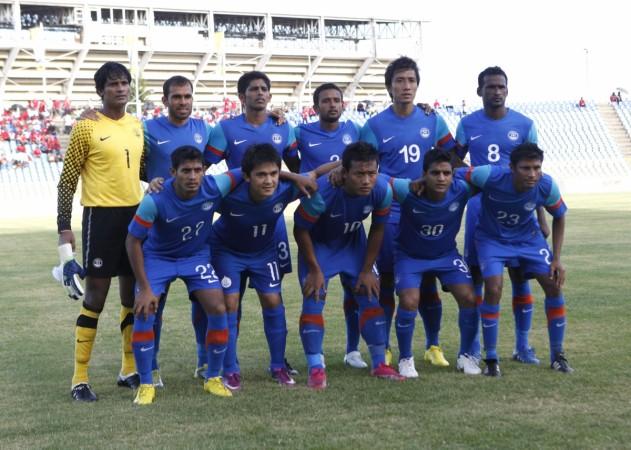 The All India Football Federation (AIFF) on Tuesday confirmed that India would play two friendly matches against Palestine in October.
India will play the international friendlies against the recently crowned AFC Challenge Cup champions on 6 October and 9 October. The matches are expected to be held at Siliguri's Kanchenjunga Stadium.
As per FIFA's July rankings, Palestine are 85th, whereas India are 66 postions lower on 151. India last played Palestine in a friendly in Kochi in February 2013, where the visiting side won 4-2.
Palestine had earned the Asian Cup last seat for the first time in their history by winning the AFC Challenge Cup 2014 in the Maldives. They are placed in Group D, alongside Japan, Jordan and Iraq.
They will play two friendlies against India, followed by Morocco and fellow Asian Cup competitors China.
AIFF was reportedly waiting for confirmation from Palestine football federation on whether they would be able to make it to the country, following the current scenario in Gaza. The Palestine federation has now confirmed their participation.
India had played a friendly against neighbours Bangladesh in Margao back in March. The match resulted in a 2-2 draw.
India squad: Subrata Pal, Karanjit Singh, Amrinder Singh, Aiborlang Khongjee, Denzil Franco, Arnab Mondal, Sandesh Jhingan, Narayan Das, Gurjinder Kumar, Clifford Miranda, Mehtab Hossain, Francis Fernandes, Lenny Rodrigues, Lalrindika Ralte, Rocus Lamare, Victorino Fernandes, Alwyn George, Balwant Singh, Robin Singh, Sunil Chhetri.
Palestine squad: Toufic Ali, Ramzi Saleh (c), Ghanem Mahajneh, Raed Fares, Hussam Abu, Saleh Omar, Jarun Mousa, Abu Jazar, Khaled Mahdi, Abdelatif Bahdari, Haytham Theeb, Mus'ab Al-Batat, Hilal Musa, Tamer Seyam, Imad Zatara, Ahmed Maher, Abdelhamid Abuhabib, Khader Yousef, Murad Ismail Said, Abdullah Jaber, Rami Musallmeh, Ashraf Nu'man.
The U-23 squad is also scheduled to play two friendly matches against Pakistan on 17 August and 20 August in Bangalore.
These matches are in preparation for the Asian Games, starting 19 September.