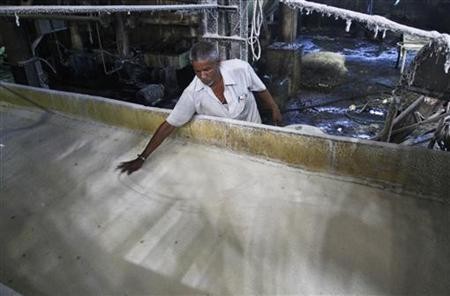 In a bid to minimise sugar imports amid dropping local prices, the Indian government is likely to raise the import duty on sugar to 15 percent from 10 percent.
A meeting among the Ministries of Food, Finance and Agriculture on Thursday agreed to increase duty on the sweetener due to ample supply in the market.
"Informally, it has been agreed upon to increase the import duty on sugar, but a formal order in this regard has to come from the finance ministry," an official at the food ministry told Reuters.
A 50 percent hike in duty could add to global sugar stocks. Moreover, it could put pressure on prices further by halting India's sugar imports, which have already slowed due to the weak rupee.
Most mills and traders in India import raw sugar, which they refine and sell in local markets. India is the top consumer of sugar in the world and has been importing it despite a surplus availability within the country. India is likely to produce more than an annual demand this year, amounting to 24.6 million tonnes of sugar in 2012/13, against the demand of about 23 million tonnes.
In New York, the front-month raw sugar contract fell to a three-year low of 16.02 cents a pound last week, weighed down by hefty global supplies, Reuters reported.
Since October last year, India has imported around 700,000 tonnes sugar, including 100,000 tonnes of white sugar. Sugar prices have fallen by 14 percent this season.
"In the last two months hardly anyone was importing raw sugar except Shree Renuka Sugars. The weak rupee has already wiped out whatever margin refiners have. In addition, higher duty will close import doors," Kamal Jain, managing director of brokerage Kamal Jain Trading Services told Reuters.