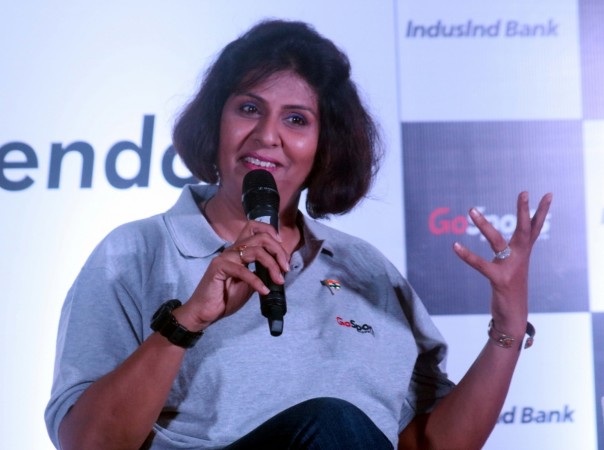 Deepa Malik, one of the key figures from India's contingent for the Rio Paralympics 2016, is all set for women's shot put final on Monday. The 45-year-old gifted athlete from Haryana's Sonipat district will compete in the shot put F-53 final at the Olympic Stadium (Engenhao) in Rio de Janeiro, Brazil.
Deepa, one of the most inspirational athletes from the country, unfortunately not many know of, is hoping to make that impact at the Paralympics 2016. "If you take Sakshi out of Malik and Karmakar out of D(i)eepa then you are left with Deepa Malik! And I think I have a very lucky name," the 45-year-old, who is an accomplished swimmer, adventure sports player, international athlete, biker, as well as an entrepreneur was quoted by Huffington Post.
Deepa, the first Indian female athlete at the Paralympics, was confined to a wheelchair in 1999 owing to a spinal tumour which made her paraplegic (paralysed from waist down). She had three tumour surgeries and 183 stitches between her shoulder blades.
The gifted athlete has a total of 54 national gold medals and 13 international medals in swimming, javelin throw and shot put. Now, she will be keen on adding her first-ever Paralympics medal.
Deepa has registered her name four times in the Limca Book of Records for the following list of sporting achievements.
Crossing a 1km stretch of the Yamuna river against the current in 2008
Covering 58km by riding a special Kawasaki Bajaj 100cc bike in 2009
Making the longest (Chennai-Delhi 3,278 km) pan-India drive by a paraplegic women in 2013
Driving across nine high-altitude passes in nine days on Ladakh's highest motorable roads, and in the process, becoming the first woman in the world with her disability to attempt a journey of such sorts in 2011.
To have such a sensational sports figure and an adventure junkie participate in the Paralympics is definitely a great moment, and an even prouder moment for India. Can Deepa Malik join Mariyappan Thangavelu in bringing home the second gold from Rio Paralympics? Time to wait and see.
Schedule for day 5
Women's shot put F-53 final is scheduled to start at 10 am local time (6.30 pm IST, 2 pm BST) on Sept. 12.
Where to watch live
India: TV: Sony Six (Highlights daily at 9 am and 5 pm), Sony ESPN (Highlights daily at 10.30 am and 6 pm). Live streaming: Paralympic.org, Olympic channel.
Brazil: TV: Globo Sport. Live streaming: Rede Globo.
China: TV: CCTV. Live streaming: cctv.com.
USA: TV: NBC. Live streaming: Team USA.
UK: TV: Channel 4. Live streaming: Paralympics Channel 4.