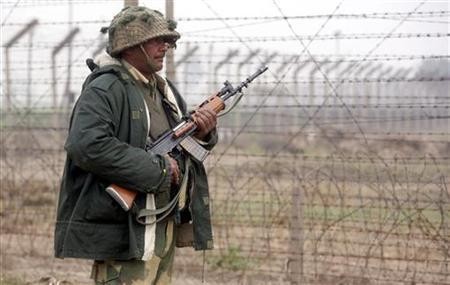 In view of increasing skirmishes on the border, India and Pakistan are likely to hold a flag meeting today to defuse the tension.
The flag meeting is likely to be held on Monday with the Pakistani Rangers to end ceasefire violation along the border according to a BSF official. The meeting will be at the commandant level or DIG level in Jammu, reported PTI.
The Border Security Forces (BSF) reported frequent incidents of firing by the Pakistani troupe along the 200 kilometres long international border in Jammu, Samba and Kathua districts in Jammu frontier. There have been incidents of heavy shelling of mortars and rockets and firing from automatic weapons in these areas according to the reports.
While two soldiers were killed, around 32 people including 18 civilians have died during the firing. The situation was escalated to the higher level and the Prime Minister of Pakistan Nawaz Sharif appealed to the US to interfere to resolve the border issue. The appeal was however rejected by the US saying it was a bilateral issue. India too refused intervention of a third party in this regard.
This is said to be second attempt to hold a flag meeting. The BSF troops had earlier tried to a hold flag meeting on October 18 and 20 with Pakistan Rangers in Samba district, but Pakistan Rangers reportedly did not turn up for the meeting.
India and Pakistan had signed an agreement in 2003 soon after the full scale Kargil Conflict that both the nations will maintain peace along the Line of Control. This means that the troupes of both the nations would not engage in activities (firing, shelling, bombing) that would hurt the other nation.
Concerned over the incidents of violence along the border, Chief Minister of Jammu and Kashmir Omar Abdullah had urged the Government of India to retaliate or hold talks with Pakistan to defuse the tense situation.
Home Minister Sushil Kumar Shinde visited a few areas along the border to review the security situation in the wake of these ceasefire incidents.
The territorial issue of Jammu and Kashmir dates back to 1947 since independence. India and Pakistan have fought two wars in 1965 and 1971 over the two states. The skirmishes since 1984 led to a full scale Kargil Conflict in 1999.