India, though a bit late to adopt touchscreen mobiles, has gone on to catch up with developed markets in the last couple of years and is on a record spree, registering double-digit growth, faster than any other country. Now, it has overtaken the US to become the second-biggest smartphone market, behind only China.
As per the market watchdog Canalys report, India, which recorded staggered smartphone sales growth in last quarter, has recovered its pace and registered 23 percent year-on-year growth in the third quarter compared to last year same period.
The Indian smartphone market witnessed the sale of an astronomical 40 million mobile units, thereby overtaking the US as the world's largest market after China.
Meanwhile, as Samsung shipped 9.4 million smartphone and topped the table, Xiaomi was seen fast closing the gap, as it recorded 9.2 million unit shipments with a 290 percent growth rate.
If the latter continues at the same rate, it is expected to dethrone the former in a couple of quarters.
Also read: This is how Xiaomi 'made impossible possible' in India during Diwali sales
"Xiaomi's growth is a clear example of how a successful online brand can effectively enter the offline market while maintaining low overheads," Rushabh Doshi, Canalys Analyst, said in a statement.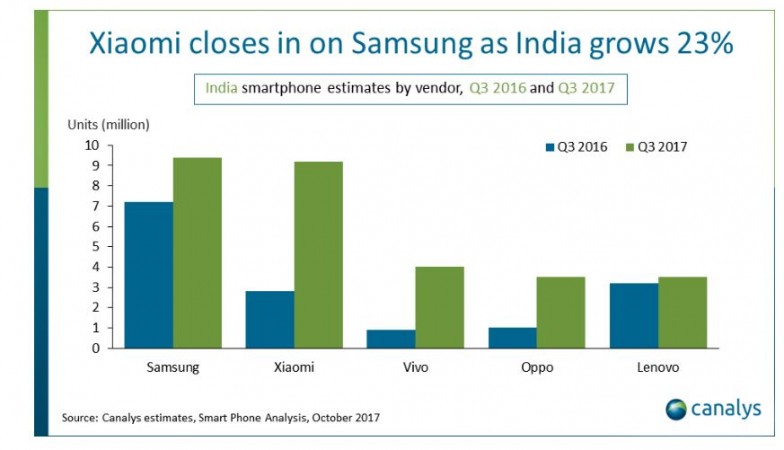 "But Xiaomi focuses on the low end. It struggles in the mid-range (devices priced between Rs 15,000 and Rs 20,000, or $230 and $310), where Samsung, Oppo and Vivo are particularly strong. Nevertheless, we predict Xiaomi's continued go-to-market innovations will allow it to overtake Samsung within a couple of quarters," Doshi added.
Both companies are said to have accounted for close to 50% of total shipments among the top five mobile vendors, other being Vivo (3), Oppo (4), Lenovo with Motorola (5).
Samsung arch-rival Apple, which began local assembling of iPhones in Bengaluru, also recorded a healthy 900,000 units' shipment — more than double from last year.
Follow us @IBTimesIN_Tech on Twitter for latest updates on new smartphones.