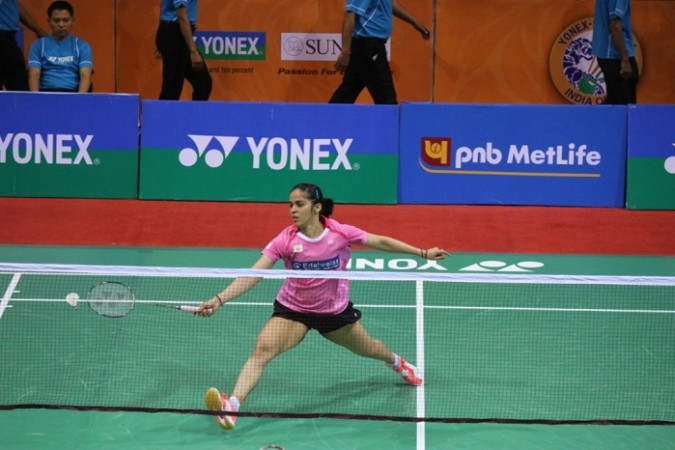 There was big disappointment for the home crowd during the first round of the India Open at the Siri Fort Complex in Delhi, as all the male singles shuttlers were knocked out of the Superseries tiurnament. With it, there is huge pressure on Saina Nehwal and PV Sindhu, in the female singles competition, to carry the Indian flag high as they get ready for their second round matches -- Nitchaon Jindapol and Busanan Ongbumrungphan respectively.
Saina has been troubled with injuries since last year. She had a tough time, playing with the pain, and could not give her best. Saina even withdrew from competitions like Syed Modi Grand Prix Gold and Thailand Masters this year.
She has gradually recovered from her injuries, but her movement was less than impressive in the last Superseries – All England Open – earlier this month.
However, things seem to have improved. Coach Vimal Kumar feels that the superstar is fully fit for this India Open, and Saina is a completely different player when fully fit.
Saina Nehwal looked good in her first round match against qualifier Tanvi Lad, with the former winning 21-7, 21-13. Saina is also not expected to face a huge challenge in the second round, against world number 29 Jindapol.
The Indian shuttler has an imposing head-to-head record against the Thai player, who is yet to defeat Saina. The world number six has defeated Jindapol four times in the past, with two of those wins, both by straight games, coming last year.
If, as expected, Saina defeats Jindapol, she could run into fifth seed Sung Ji Hyun, which is expected to be cracker of a contest.
Sindhu also looked in great form in the first round, defeating Jeanine Cicognini in straight games 21-8, 21-8. With such form behind her back, Sindhu is a huge favourite to reach the quarterfinals of the competition, when she plays Ongbumrungphan.
Sindhu has not lost a single match against the Thai player, who set up this date after defeating Minatsu Mitani in the first round.
Sindhu is someone, who, if she gets her momentum right, can unleash powerful smashes, which can catch even top players off-guard. Her game at the net is also brilliant, but she loses concentration easily, which she needs to take care of against Ongbumrungphan.
Where to follow live
PV Sindhu vs Busanan Ongbumrungphan (3:15 p.m IST)*
Saina Nehwal vs Nitchaon Jindapol (7:45 p.m IST)*
Click here for all the live scores
*The match timings could change, depending on the conclusion of other matches.