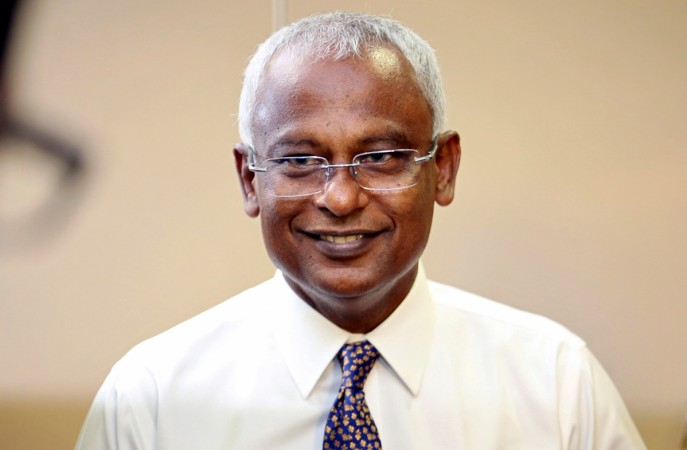 India is likely to provide cash-strapped Maldives $1 billion in loans, and the amount will reportedly be used by the nation to pay its debts to China. The announcement was made by Maldivian foreign minister Abdullah Shahid, after he met and discussed the matter with Indian officials.
Under the leadership of former president Abdulla Yameen, Maldives is known to have borrowed a large amount of money from China and the funds were used to build infrastructure and houses as part of Beijing's Belt and Road initiative. In return, Yameen is believed to have given a few islands to China.
Shahid spoke to reporters after the meeting and said that Maldives' "India First" policy was here to stay and the two nations would further build and maintain their good relations.
"President Yameen tried to be a puppet master, to play India and China off against each other. He failed," the Times of India quoted Shahid as saying.
However, the deal with India seems to come with a few conditions. Indian government sources have said that India would offer the funds only if Maldives agrees to distance itself from China, reported the Nikkei Asian Review. Not just that, India has reportedly also demanded stronger security ties and permanent deployment of the Indian armed forces in the nation.
While India has put across these demands, Maldives has made it clear that it sees China as its friend. "We have a strong India first policy, but will engage with all other countries," Shahid added. He also explained that China was one of the largest economies in the world and the island nation had benefitted from the funds received.
The Maldivian foreign minister also said that the island nation would not return the advanced light helicopters to India, as threatened by Yameen earlier.
India and the Maldives also are a part of a three-month currency swap deal, and minister for economic development Fayyaz Ismail said that the country has asked India to extend the deal for six months.
"We are looking to India to lead the IHavan project," TOI quoted him as saying. "We are trying to put the past last five years of instability in the Maldives and we will try to resolve all differences between Maldivian and Indian investors. In that regard, we are hoping to strengthen our bilateral trade. We are hoping to enter into a bilateral treaty with India on increasing investment."