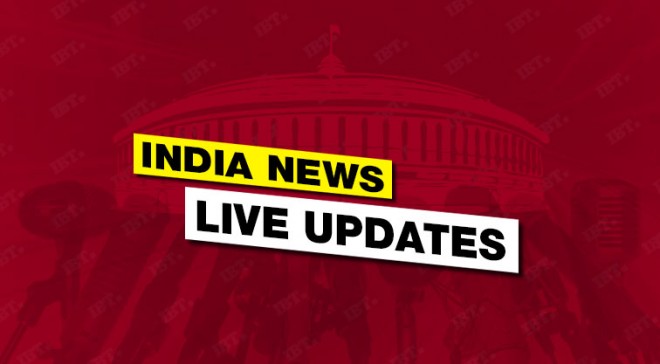 Read all breaking news from India here:
5:29 pm IST: CBI files a chargesheet against 4 accused in connection with Vyapam case.
5:20 pm IST: ATM withdrawal limits enhanced from current limit of Rs 4500 to Rs 10,000 per day, per card. Limit on withdrawal from current accounts has been enhanced from current limit of Rs 50,000 per week to Rs 1 lakh per week.
4:37 pm IST: PIL filed in Patna High Court seeking directions for an independent inquiry into the Bihar Boat Tragedy
4:13 pm IST: Uttar Pradesh: Police detain 4 people in Agra for carrying Rs 1 crore cash. IT dept informed. Probe underway.
2:45 pm IST: Chhattisgarh: CRPF recovers IED weighing 10 kg in Bijapur district near an under construction bridge. Successfully defused.
2:32 pm IST: WhatsApp Case: SC issues notice to Centre, TRAI and Facebook and has sought a reply within two weeks over questions regarding privacy on the app
1:51 pm IST: Three Indian origin antiques, illegally exported from India, willingly returned by National Gallery of Australia, Canberra
1:12 pm IST: Supreme Court dismisses plea which sought video-recording of court proceedings
1:07 pm IST: SC directs the centre to fill up vacancies of the National Commission for Scheduled Tribes within three months from today
1:06 pm IST: BJP releases second list of 7 candidates for Assembly elections in Goa
1:01 pm IST: SC allows woman from Maharashtra to terminate 24 week pregnancy after board of specialists recommended abortion as fetus was underdeveloped
12:11 pm IST: SC summons transport secretaries of 10 states for not filing responses to petition on installing speed governors in transport vehicles. Secretaries of following states summoned by SC: Assam, Nagaland, Sikkim,Tamil Nadu, Delhi, Tripura, Bihar, Rajasthan, Andhra Pradesh and Madhya Pradesh. Next hearing is after four weeks.
12:03 pm IST: CISF jawan Suresh Gaikwad allegedly commits suicide by shooting himself with his service rifle at Kempe Gowda Airport in Bengaluru
11:28 am IST: Kanker (Chhattisgarh): 29 pilgrims injured after bus overturns near Telgara village on Sunday night.
11:08 am IST: Senior Uttarakhand Congress leader and state minister Yashpal Arya joins BJP
10:53 am IST: 1984 riots case: Supreme Court directs the Central Government to file a report regarding the status of the case
10:27 am IST: Jammu and Kashmir: Train service on Baramulla-Banihal section suspended for today due to heavy snowfall
10:04 am IST: Bombay Stock Exchange fixes price band at Rs 806 per share for IPO
10 am IST: Mathura (UP): More than 40 school children injured after a school bus overturns on Surir-Sikandarpur road. All injured admitted to hospital
9:39 am IST: Madurai (Tamil Nadu): Villagers hold 'symbolic' Jallikattu event in Alanganallur after prayers
9:32 am IST: Sambhal: Three injured in fire cracker celebration after rumours spread that local BJP MLA aspirant has got the ticket
9:06 am IST: SC to hear Nirbhaya gangrape convicts' plea challenging Delhi HC order
8:59 am IST: Kashmir University examinations, scheduled to be held today and tomorrow, postponed due to heavy snowfall
8:57 am IST: Himachal Pradesh: National Highway 5 leading to Kufri closed due to fresh snowfall
8:50 am IST: OPDs of all private hospitals in the state to remain closed from 10 am to 5pm in protest against murder of Allahabad's Dr.AK Bansal
8:23 am IST: Jammu and Kashmir: 3 terrorists killed in encounter between security forces and terrorists in Anantnag district
7:46 am IST: Ajay Maken, Asha Kumari and Navjot Singh Sidhu to address the media at 11 am at the Congress Headquarters in Delhi
7:35 am IST: Kolkata: Fire at Presidency University canteen, six fire tenders being used to douse the flames.The fire is now under control
6:52 am IST: Jammu Srinagar Highway closed due to heavy snowfall at Patnitop and Jawahar Tunnel
6:42 am IST: Delhi: 17 trains delayed, six rescheduled and two cancelled due to fog