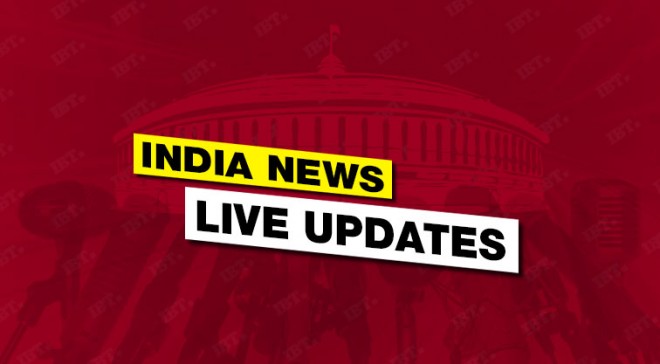 Read all live updates, breaking news from across India right here on International Business Times India:
Here are all the live updates:
2:39 pm IST: Police have taken into custody a RSS worker in connection with the bomb attack near the meeting venue of CPI(M) leader Kodiyeri Balakrishnan.
2:36 pm IST: Jodhpur Court announces February 15 as the next date for hearing the Blackbuck poaching case that includes Bollywood actors Salman Khan, Saif Ali Khan, Sonali Bendre and others as accused.
2:26 pm IST: Congress party releases the list of 40 campaigners for the second phase elections in Uttar Pradesh. It includes Sonia Gandhi, Rahul Gandhi, Raj Babbar, Priyanka Gandhi, Digvijaya Singh, Salman Khurshid, Manmohan Singh, Nagma and more.
1:45 pm IST: Congress vice president Rahul Gandhi has named Captain Amarinder Singh as the chief minister candidate from Congress for Punjab at an election rally.
1:15 pm IST: Tamil Nadu CM O Panneerselvam has said that Jallikattu protest was peaceful, though some element acted against the law. He reiterated that his government will take action on them after the investigation is over.
12:40 pm IST: Karnataka CM Siddaramaiah has said that the government was not against the coastal buffalo race, Kambala. Calling it a rural sports, he said the government was ready to bring a legislation too if necessary.
12:30 pm IST: The Indian state of Jammu and Kashmir has reopened its air traffic after it was shut down due to bad weather. The state has seen an inclement weather, and avalanches have killed 14 soldiers.
12: 20 pm IST: Congress President Sonia Gandhi paid her tributes to Russian Ambassador to India Alexander Kadakin at Russian Embassy in New Delhi. Kadakin died of cardiac arrest on Thursday. He was a fluent speaker in Hindi and had spent nearly 40 years of his diplomatic service in India.
11:20 am IST: Bodies of the 4 missing soldiers have been recovered from avalanche site in Gurez, Jammu and Kashmir, total death toll climbs to 14.
11:15 am IST: Union Budget must be presented after elections, Uttar Pradesh Chief Minister Akhilesh Yadav writes in a letter to PM Narendra Modi.
11: 00 am IST: Shiv Sena MPs to not attend pre-budget meeting which is to be chaired by CM Devendra Fadnavis today
10:55 am IST: Amit Shah and other senior party leaders to release BJP manifesto for UP tomorrow in Lucknow
10: 50 am IST: Sania Mirza-Ivan Dodig enter mixed doubles finals after beating Samantha Stosur-Sam Groth #AusOpen
10: 20 am IST: Shiv Sena leaders to meet CM Devendra Fadnavis today at his residence on the issue of circular banning pictures of Gods in Govt offices.

10:10 am IST: Salman Khan, other accused to appear before court in black buck poaching case.
10:00 am IST: Chhattisgarh District Force and CRPF 168 Battalion team arrest a naxal carrying a reward of Rs 1 lakh on his head in Bijapur.
9:55 am IST: People stage a protest in Hubli, Karnataka demanding the lifting of the ban on #Kambala (buffalo race).
9:50 am IST: Devotees take holy dip in Varanasi on Mauni Amavasya.
9:30 am IST: Crude bombs hurled at RSS offices in Kerala's Naruvamoodu and Mattannur. BJP calls shutdown in protest.
9:20 am IST: Odisha: Transgender woman gets married to a man in Bhubaneswar.
9:15 am IST: Prime Minister Narendra Modi to address a rally in Jalandhar(Punjab) today
9 am IST: Transgender woman gets married to a man in Bhubaneswar in Odisha.
8:20 am IST: A criminal carrying an award of Rs 50,000 on his head was arrested in Delhi by the police late on Thursday night after a gun-battle.
8 am IST: BJP leaders Mukhtar Naqvi and Bhupendra Yadav will meet Election Commission officials in Lucknow, looking to forward the BJP's allegations that state administration is adopting a partisan approach.
7:55 am IST: Delhi fog results in delaying of 20 trains, rescheduling of nine and cancellation of one train.
7:50 am IST: People have gathered in Allahabad to mark Mauni Amavasya.
7:40 am IST: Prime Minister Narendra Modi and Congress vice-president Rahul Gandhi will both address poll rallies in Punjab later in the day.
7:30 am IST: Meghalaya Governor V Shanmuganathan has resigned from his post following charges of sexual misconduct.