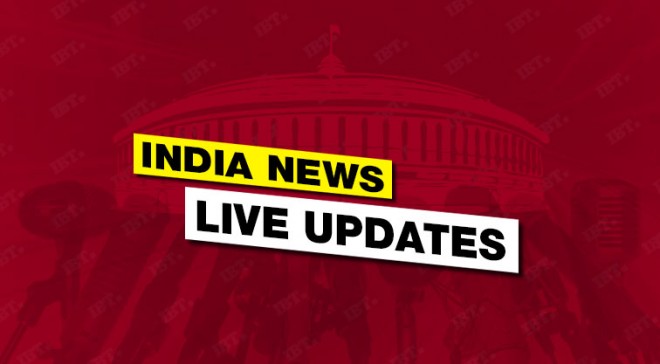 Read all live updates, breaking news from across India right here on International Business Times India:
Here are all the live updates:
4: 50 pm IST: Home Minister Rajnath Singh addresses a rally in Fatehabad, Uttar Pradesh
4:45 pm IST: Abdul Basit to be appointed as Pakistan Foreign Secretary
4:35 pm IST: Goa has recorded an overall voter turnout of 67% till 3 PM
4:30 PM IST: Punjab has recorded an overall voter turnout of 48% till 2:30 PM
4:15 pm IST: BJP will clear all dues of sugarcane farmers within 14 days, if voted to power: PM Modi.
4:00 pm IST: Amit Shah appoints Tirath Singh Rawat as BJP National Secretary
3:45 pm IST: UP government repeatedly says that their action speaks, if so, then it should also reflect on records: Piyush Goyal.
3:30 pm IST: There is no legal action taken on the culprits behind killings in UP: PM Modi in Meerut, Uttar Pradesh
3:15 pm IST: First War of Independence began here in Meerut in 1857; Then the fight was against British, now it's against poverty: PM Modi
3:00 pm IST: Earthquake with magnitude 3.5 felt in Chamba district of Himachal Pradesh at 12:35 PM
2:45 pm IST: Prime Minister Narendra Modi addresses an election rally in Meerut, Uttar Pradesh
2:30 pm IST: Two women arrested and 4kg cocaine seized; Earlier, one of them had been arrested in Pak fr cocaine trafficking-NCB Zonal Director (Delhi) Madho Singh.
2:15 pm IST: Punjab has recorded an overall voter turnout of 36.05% till 1PM
2:00 pm IST: Sheena Bora case: All 3 accused's judicial custody extended till February 17; CBI commits to start working on witness statement and evidence from February 23
1:40 pm IST: District & Sessions Court judge rejects bail plea of TMC MP Sudip Bandyopadhyay arrested in chit fund case,to apply for bail bfore Odisha HC
1:25 pm IST: Sheena Bora Murder case: CBI refuses to give complete list of witnesses in advance as they suspect that it'll compromise safety of witnesses
1:15 pm IST: Jammu and Kashmir: 2 terrorists killed by Baramulla Police and 53 RR in Baramulla district. More details awaited.

1:00 pm IST: Almost 2000 school kids & NGOs have also helped in removal of oil sludge, many thanks to them, Union Minister Nitin Gadkari says.
12:50 pm IST: Union Min Pon Radhakrishnan visits Ennore coast to inspect removal work of oil sludge says work will be complete in 1-2days

12: 45 pm IST: Kerala CM writes to Modi, raises concern over 'treatment' to E Ahamed by RML Hospital
12:30 pm IST: Impact of demonitisation is going to be transient; GDP going to be upward 7% in the next year: Economic Affairs Secretary Shaktikanta Das
12:25 pm IST: Gujarat: Head-on collision between car and truck leaves three dead near Morbi.
12:15 pm IST: Punjab wants govt that coordinates wth centre not one that hs issues with centre everyday,certainly not one that ruined Delhi, Harsimrat Kaur says
12:00 pm IST: AIADMK MLAs meeting to take place tomorrow at their party headquarters.
11:45 am IST: 75- year old woman casts her vote at polling booth no.14 in Goa's Margao
11:20 am IST: Six children have been injured after a school bus fell into a ditch in the Gorari village in Uttar Pradesh.
11:15 am IST: Mumbai's Special CBI court has adjourned the bail applications of IDBI and Kingfisher Airline employees in the Vijay Mallya loan default case till February 7.
11:10 am IST: BSF personnel have apprehended a Pakistani national near the International Border in Gharinda in Punjab.
10:30 am IST: Karnataka BJP president BS Yeddyurappa has said SM Krishna, who had recently quit the Congress, will join the BJP soon.
10:25 am IST: The body of a girl named Sukri Dhangdamajhi — a student belonging to Bonda tribe — was found hanging in the Khairiput High School hostel in the Malkangiri district of Odisha.
10:10 am IST: Kerala Chief Minister Pinarayi Vijayan has written to Prime Minister Narendra Modi on the issue of the family of IUML leader E Ahamed's family apparently not being allowed to meet him when he was in hospital after collapsing in Parliament.
9:05 am IST: UP DGP Javeed Ahmed has constituted a special investigation team (SIT) to probe Noida's online fraud worth Rs 3,700 crore. The SIT will be supervised by the IG (Crime) and led by the DIG of Meerut.
9 am IST: The DMK continues to blame the Tamil Nadu government for the Chennai oil spill and delay in cleaning it up. "Fisherman have been badly affected. We stress the need of the state and the Centre to take the necessary steps to rectify the situation," DMK acting president MK Stalin has said.
8:40 am IST: A total of four Maoists, including one with a cash reward on his head, have been arrested in Basaguda in Chhattisgarh.
8 am IST: Prime Minister Narendra Modi is expected later today to address a Sankalp rally in Meerut ahead of the Uttar Pradesh Assembly elections.
7:30 am IST: Polling has started in Goa and Punjab, at 6 am and 7 am, respectively. Get all the live updates RIGHT HERE.