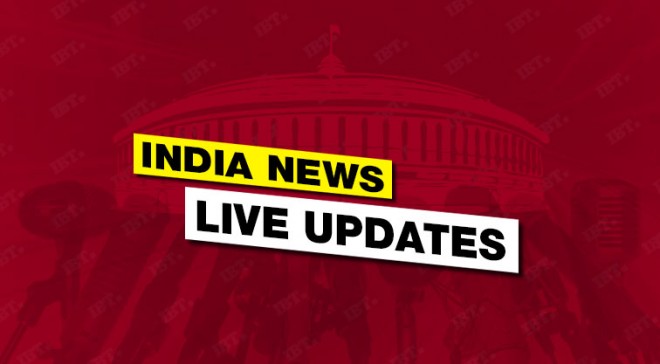 Read all live updates, breaking news from across India right here on International Business Times, India.
Here are all the live updates:
7:27 pm IST: Odisha Zilla Parishad result of 797 seats out of total 849: BJD - 448, BJP - 283, Congress - 49 and Independent /Others - 17.
7:03 pm IST: Delhi: Two and a half year old twins died after falling into the washing machine at their residence, in Rohini's Avantika area.
6:58 pm IST: Chhattisgarh: District Force and CRPF 85 Battalion arrest a naxal in Bijapur district.
6:44 pm IST: Bribegate diary: BJP denies seizure/existence of K'taka unit treasurer Lehar Singh Siroya's diary, requests Cyber Crime Cell to take action.
6:37 pm IST: Bengaluru: BJP IT Cell files complaint with Cyber Crime,requests to take action agnst those using fake documents to malign to party's image.
6:04 pm IST: BMC Elections 2017: Shiv Sena denies Congress' claim that Sena approched them to form alliance
5:39 pm IST: "BJP won't ally with Congress at any point and cost. Whoever (SS) wants to go with them can go, we won't say a single word," says Devendra Fadnavis
5:13 pm IST: Uttar Pradesh Chief Electoral Officer writes to UP Chief Secretary and directs to cover the word Samajwadi from 'Samajwadi Ambulance Seva'
4:14 pm IST: Customs seize gold bars/ jewellery weighing 5 kgs and foreign currency at airport; Total seizure value is Rs.1.77 crore
4:08 pm IST: RPF recovers 1500 tortoises in 35 bags from a train at Malda Town rly stn. 3 persons arrested;recovered tortoises handed over to forest dept
4:07 pm IST: Kansas Shooting: Hindu Samhati chief suggests Hindus to wear 'tilak' and 'bindi', Muslims to embrace Hindu and Christian symbols for security
2:51 pm IST: Delhi: Patiala House Court extends three days remand of Chhattisgarh Govt IAS BL Agrawal and two others in connection with an alleged bribery case
2:48 pm IST: Australia defeat India by 333 runs in Pune Test, take 1-0 lead in 4 match series.
2:03 pm IST: Earthquake measuring 4.0 on the richter scale hits North Tripura
1:40 pm IST: Himachal Pradesh: Three dead, five injured after a jeep rolled down into a gorge in Kinnaur district. All injured transferred to hospital
1:38 pm IST: Adding that the decision of not allying with the Sena had been conveyed to Vice-President Rahul Gandhi, Congress MP elected from Mumbai's North East consituency Gurudas Kamat on Saturday released a statement saying:
"I take strong objection to any discussion even, of having any tie up or indirect support to the Shiv Sena in the BMC. We have fought against both Saffron Parties all along for their Divisive policies and People will not spare us if we even attempt to align with them. Let them sort out their problems by themselves and in the process expose themselves and their lust for Power."
1:26 pm IST: Kerala actress molestation case: Accused Sunil Kumar and Vijesh sent to police custody till March 5.
1:24 pm IST: "People in the media and on social media do not know the certification process. The CBFC will not work according to them... Arey mujhe hata do, farak nahi padta lekin main imaandari se apna kaam karta rahunga (I don't care if I am removed from the post. But I will continue doing my work honestly)... The real problem people have is that now they cannot get their films passed by paying money," Pahlaj Nihalani, CBFC Chairperson, told ANI.
12:20 pm IST: PM Modi reaches Imphal to address an election rally. His speech to begin shortly.
11:54 am IST: "Har kisi ne kabhi thodi bohot nakal ki hogi, yahan koi hai aisa jisne bachpan mein kabhi nakal nahi ki padhai mein? PM Modi yahan nakal ka mudda utha rahe hain, BJP ne bhi to hamare vaadon ki nakal ki hai (Everyone has cheated a little bit during exams sometime in their childhood. Is there anyone here who has not ? PM Modi talks about copying in exams. BJP has copied our promises in their manifesto)," says UP CM Akhilesh Yadav
11:46 am IST: Ethiopian Airlines aircraft from Mumbai to Kathmandu makes emergency landing at Delhi airport due to technical snag. All passengers safe.
11:17 am IST: "I am against cuts,I ask for classification of films not censorship. When people of our country have the power to vote, power to change govt, so why should they be told what to see and what not?" director Shyam Benegal told ANI
11:05 am IST: 2007 Ajmer Dargah blasts case: Hearing adjourned till March 8 in NIA Jaipur court
11:03 am IST: Former BJP chief Nitih Gadkari has said that both the Shiv Sena and the BJP do not have the needed numbers in the BMC, and so should work together. However, he has left the final decision on the matter to the leaders of both parties and Maharashtra Chief Minister Devendra Fadnavis.
11 am IST: BJD MLAs and ministers are protesting outside the Assembly in demand of an unconditional apology from PM Modi over his remarks on poverty in Odisha.
10:40 am IST: The Congress and the BJD have demanded an unconditional apology from Prime Minister Narendra Modi over his remarks on Odisha. The state Assembly has been adjourned till 11:30 am after disruption on this issue.
Modi had said during a rally in Gonda in UP in the run-up to the UP Assembly elections: "There is so much poverty in Odisha that if you search for the poorest districts in the country, you will find them in this state... I am sure if the poor people of Odisha have stepped forward in support of the BJP, nothing will remain for other parties in the coming days."
10:35 am IST: Union Minister Venkaiah Naidu has said that Congress leader P Chidambaram's remark, that Kashmir "nearly lost" due to the Central government's policies, are "shocking, irresponsible and bordering on anti-national."
10:20 am IST: Minister of State for PMO Jitendra Singh has said: "When the BJP comes to power in Manipur, which I am sure it will, there will be complete peace in the state."
9:15 am IST: Karnataka Chief Minister Siddaramaiah on Saturday ordered Bengaluru City Police Commissioner Praveen Sood to "diligently investigate" the case in which a school supervisor has been accused of molesting a three-year-old girl.
8:40 am IST: Now, actor Vivek Oberoi has reacted on the Lipstick Under My Burkha controversy, saying: "Censorship should only be a guideline. Aisa nahi ki aap kainchi ya danda lekar khade ho jaayen (It should not be that you take a stand with scissors or a stick)."
8:20 am IST: Forest officers at Jalpaiguri in West Bengal have seized a leopard skin and arrested two people.
8:10 am IST: Three people of a family have been found dead in Allahabad in Uttar Pradesh. The police are investigating the case.
7:50 am IST: The family of Sepoy Mandeep Singh, who lost his life in a ceasefire violation in Jammu and Kashmir, have sought the help of Prime Minister Narendra Modi to claim the promised compensation.
7:40 am IST: Celebrities continue to react on the censor board refusing to certify the Prakash Jha film Lipstick Under My Burkha. Director Kabir Khan has said: "Two-three people can't decide which film is good for our society and which is not. This is ridiculous."
7:30 am IST: The Indian embassy in the US has said of the Kansas attack in which one Indian was killed and another injured: "We have been closely monitoring the tragic incident involving two Indian nationals in Kansas. The government of India has taken up the matter with the US authorities to express deep concern, and have asked for speedy investigation."
It has added: "The US Government, while condemning the attack, has assured us that it is conducting a thorough investigation into the matter."