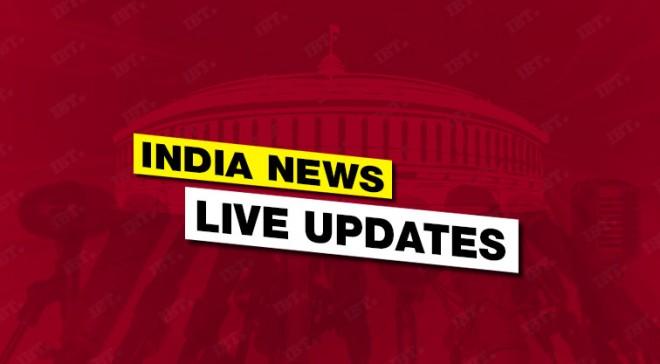 Read all live updates and breaking news from across the country here on International Business Times, India:
Bangalore lake catches fire again.
25 students injured in Himachal Pradesh after bus turns over.
Five Supreme Court judges take oath
Here are the live updates:
4:35 pm IST: Border Security Force personnel have seized Rs 2 lakh worth of fake notes of Rs 2000 in Malda, West Bengal.
4:20 pm IST: India's Ministry of External Affairs says it "strongly deplores" the terror attack at the Sufi shrine of Lal Shabhaz Qalandar in Pakistan on Thursday, which resulted in a large number of deaths.
4:12 pm IST: O Panneerselvam writes letter to TN Police requesting them not to arrest Amma supporters who are peacefully protesting against current Govt.
3:33 pm IST: Tamil Nadu Minister KA Sengottayan appointed as floor leader of Tamil Nadu Assembly.
3:00 pm IST: Noida (UP): Police arrests Webwork Trade Pvt Ltd director Anurag Garg in connection with a Rs 200 crore-scam.
2:50 pm IST: TN Political crisis: O Panneerselvam team members meet Assembly Speaker P Dhanapal; urge him to have secret ballot for confidence vote.
2:18 pm IST: J&K: SOG Baramulla arrests one local terrorist of Hizbul Mujahideen in Pattan; Further details awaited.
1:19 pm IST: SC bench orders registration of FIR against UP minister Gayatri Prajapati for gang rape and sexual harassment case.
1:00 pm IST: Delhi High Court directs authorised signatory from Ola & Uber to hold a meeting with Sarvodaya Driver union to peacefully resolve issues.
12:58 pm IST: Sacked AIADMK presidium chairman E Madhusudanan also removes VK Sasikala's nephew TTV Dinakaran and S Venkatesh from their respective party posts.
12:26 pm IST: Sacked AIADMK Presidium Chairman E Madhusudanan removes VK Sasikala from primary membership of the party.
12:24 pm IST: Delhi Court sends actor Anuj Saxena to three-day police custody in connection wth graft case involving senior bureaucrat BK Bansal and family suicide case.
12:00 pm IST: NGO Satta Panchayat Iyakkam withdraws application from SC seeking a stay on the appointment of Sasikala as the Chief Minister of Tamil Nadu.
11:45 am IST: Mumbai: AIU recovered 2100 grams gold valued at Rs. 63,71,400 concealed in pockets of trouser. One person arrested.
11:30 am IST: DMK working president MK Stalin to chair party MLAs meeting today at 4 PM.
11:20 am IST: Five SC judges takes oath: Justice Sanjay K Kaul, Justice Mohan Shantanagoudar, Justice S A Nazeer, Justice Navin Sinha & Justice Deepak Gupta.
11:17 am IST: CRPF jawan injured in IED blast in Chhattisgarh's Bijapur.
10:30 am IST: Debris caught fire at Bellandur lake, Bengaluru where toxic chemicals are dumped, smoke engulfed the lake. Fire now under control.
10:05 am IST: Mandi (HP): School bus overturns at Dehar village in Sundernagar area, over 25 children injured, rushed to hospital. No deaths reported.
9:24 am IST: Congress VP Rahul Gandhi to address rallies in Hathgaon of Fatehpur & Raebareli where Priyanka Gandhi will accompany him.
9:23 am IST: Irom Sharmila filed nomination on behalf of People's Resurgence & Justice Alliance, covered a distance of about 20 kms from Imphal on her bicycle.
8:48 am IST: 101 couples tie the knot at a mass wedding function in Surat.
8:20 am IST: Nine students at a government school in Delhi hospitalised after they consumed a midday meal, in which a dead rat was allegedly found.