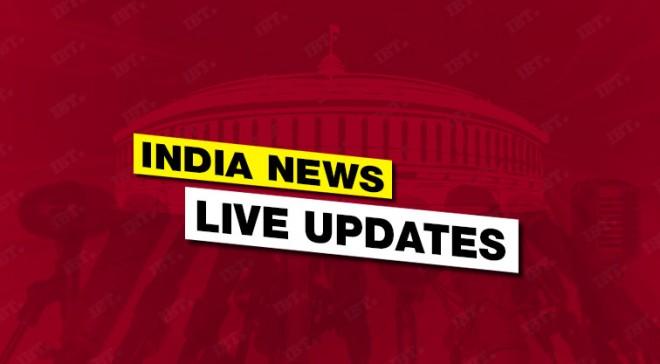 Read all live updates, breaking news from across India right here on International Business Times India:
5 pm IST: The Prime Minister mocks the tragedy of Uttarakhand and insults the freedom struggle, but has no answers to the opposition's questions, says Rahul Gandhi.
4.21 pm IST: The Payment of Wages (Amendment) Bill 2017 passed in Lok Sabha.
4.13 pm IST: West Bengal Advocate-General Jayanta Mitra resigns over differences of opinion with state government.
4.08 pm IST: Another incident of brutality and force emerges from Uttar Pradesh.
4 pm IST: Sensexdrops 104.12 points to end at 28,335.16; Nifty falls 32.75 points to 8,768.30.
3.55 pm IST: Shiv Sena chief Uddhav Thackeray holds press conference with Patidar quota stir leader Hardik Patel in Mumbai. Patel, who says he is a fan of Bal Thackeray, will be Shiv Sena's campaign face in Gujarat.
3.45 pm IST: Left-arm spinner Kuldeep Yadav to replace injured leg spinner Amit Mishra in Team India for one-off Test against Bangladesh in Hyderabad.
3.40 pm IST: It is because of my 'athai' Jayalalithaa that I have come here. I want to complete the tasks that she has left behind, Deepa Jayakumar added. She will now contest elections and will announce her new party soon.
3.30 pm IST: Jayalalithaa's niece Deepa Jayakumar reiterates that she was not allowed to meet the former Tamil Nadu chief minister when she was undergoing treatment at Chennai's Apollo Hospitals.
3.14 pm IST: PH Pandian had tried to create confusion even after MGR's death: AIADMK
3.10 pm IST: President Pranab Mukherjee meets Telangana Chief Minister M K Chandrasekhar Rao in New Delhi.
3.05 pm IST: BJP and Congress ask Rajya Sabha members to be present in the House for last three days of the Budget session of Parliament.
3 pm IST: India beat New Zealand by nine wickets in Blind T-20 World Cup in Bhubaneswar.
2.55 pm IST: Congress leader Shashi Tharoor likely to speak in Lok Sabha on the Modi government's demonetisation drive.
2.45 pm IST: Union Minister Venkaiah Naidu slams opposition party leaders for making personal remarks on Prime Minister Narendra Modi.
2.35 pm IST: Kerala government has identified four locations for setting up AIIMS in the state. They are in Thiruvananthapuram, Kottayam, Ernakulam and Kozhikode districts.
2.30 pm IST: Four killed and five others seriously injured in a car accident near Digdool in Jammu and Kashmir's Ramban district.
2.25 pm IST: Amid India's quest to become a less-cash economy by pushing for maximum online transactions, a study has revealed that the country had the highest percentage of IP connection blocks (spam emails) during December 2015-November 2016.
2.20 pm IST: The Election Commission has issued a notice to Defence Minister Manohar Parrikar for his bribery remarks when he told residents of a slum near Panaji that it's okay to accept Rs 500 from candidates to attend rallies, but they should cast votes for the BJP only. Parrikar has been told to file his final reply by Thursday.
2.10 pm IST: Lok Sabha adjourned till 3 pm.
2 pm IST: Maoists loot explosives from National Mineral Development Corporation vehicles in Chhattisgarh's Dantewada district.
12:30 pm IST: SC observes that if person/community is aggrieved by jokes, then there are mechanisms for it, like one can seek redressal under IT act.
12:20 pm IST: NGT principal bench transfers Chennai Oil Spill matter to Chennai bench, which already has two petitions in case, petitions to be heard on February 20.