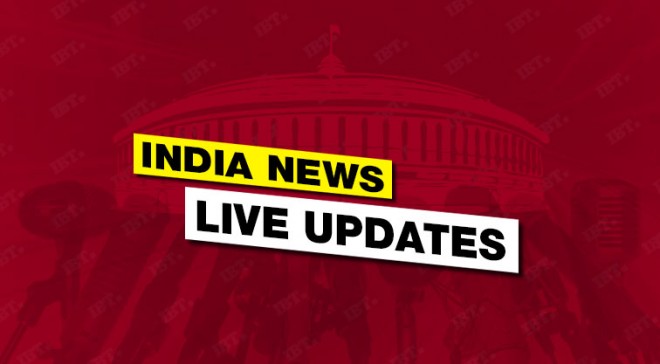 Read all live updates, breaking news from across India right here on International Business Times India:
Here are all the live updates:
5:30 pm IST: Pakistan violates ceasefire in the Samba sector on Jammu and Kashmir
4:22 pm IST: Police seizes 434 bottles of liquor in Chandauli in Uttar Pradesh. Case has been registered against two people
4:17 pm IST: All accusations against Maran brothers and other accused in Aircel Maxis case discharged
4:12 pm IST: Varun Gandhi and Murli Manohar Joshi feature on the list of BJP's campaigners for 3rd and 4th phase of elections
4:08 pm IST: PM Modi condoles the death of those who died in the building collpase in Kanpur.
4 pm IST: Five officials of Kanpur Development Authority suspended in connection with building collapse that took place in Jajmua
3:59 pm IST: "Around 60 tonnes of oil collected, another 20 tonnes left in the area that will be removed soon. Seafood is safe," says TN Fisheries Minister D Jayakumar
3:37 pm IST: Congress Vice President Rahul Gandhi addresses a rally in Lambi, Punjab
3:22 pm IST: T20 Blind World Cup: India beat England by 10 wickets in league match
3:16 pm IST: State Congress Committee expels 24 rebels for contesting against Congress candidates in upcoming Uttarakhand assembly election, for six years
3:02 pm IST: BSP Chief Mayawati addressing a rally at Hathras
2:55 pm IST: Toddler defies death in Kanpur building collapse: 3-year-old girl pulled out of rubble, reunited with father
2:24 pm IST: Budget Session in Rajya Sabha is currently underway
1:48 pm IST: Collision between a goods train and a pick-up van on Chandauli-Mughalsarai-Varanasi route at Hridaypur crossing. Van driver injured in Mughalsarai in Uttar Pradesh.
1:39 pm IST: Former minister E Ahamed's funeral in Kannur today
1:36 pm IST: BSP Chief Mayawati addressing election rally in Bulandshahr
1:29 pm IST: Chhatisgarh: Bastar IG SRP Kalluri, goes on leave again, after being on leave for a month due to a heart blockage operation he underwent.
12:58 pm IST: Uttar Pradesh Chief Minister Akhilesh Yadav addressing a rally in Khatauli, Muzaffarnagar
12:01 pm IST: Delhi High Court issues notice to Election Commission and Centre on the plea to restrain political parties to offer freebies to the voters
11:55 am IST: India signs Financing Agreement with World Bank for US$ 201.50 million for "Third Technical Education Quality Improvement Programme"
11:20 am IST: Agitated over not getting desirable prices farmers throw vegetables on NH-43 in Surajpur, Chhattisgarh
10:55 am IST: Three Pakistan boats seized from Sir Creek area of the Kutch region in Gujarat
10:48 am IST: Supreme Court judge Uday Umesh Lalit recused from hearing bail plea filed by Narayan Sai in connection with case of giving bribe to Police
9:48 am IST: At least 14 people got injured after a bus hit a tree near Kalikaprasad in Champua in Odisha's Keonjhar city. The bus was on its way to Ranchi from Bhubaneswar
9:31 am IST: Major tragedy averted by the Jammu and Kashmir Police and 3 Rashtriya Rifles by defusing IED planted by terrorists on Jammu-Srinagar national highway in Charsoo Awantipora
9:13 am IST: No political party or candidate or any other organisation or person shall publish any advertisement in print media on February 3 and 4. Unless contents of advertisement proposed to be published are got pre-certified by pol parties, candidates etc from the MCMC committee: ECI
9:09 am IST: Jammu and Kashmir: Hurriyat leader SAS Geelani was admitted to Sher-e-Kashmir Institute of Medical Sciences last night after he complained of severe chest pain. Geelani was later admitted in Medical ICU and is now being constantly observed by specialist doctors.
9 am IST: Kanpur building collapse: FIR registered against owner SP leader Mahtab Alam and contractor
7:42 am IST: Six foot Ganesha idol located on a hill in Dantewada's Dholkal, found damaged last week, has been restored to its original place
7:26 am IST: Supreme Court to hear State Bank of India (SBI)-led consortium's plea against Vijay Mallya today