Nelson Mandela, former South African President and anti-apartheid revolutionary, passed away aged 95 on Thursday at his home in Johannesburg.
The Nobel laureate had been fighting a recurring lunch infection for nearly a year.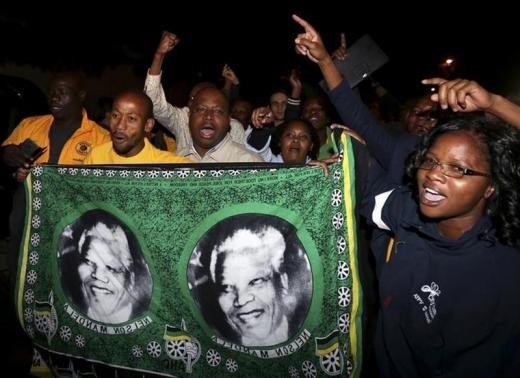 Outside his old house on Vilakazi Street, Soweto, people gathered in large numbers to mourn the loss of their Madiba, his Xhosa clan name. Some held the national flag and a few draped it around them as they sung praises of the revered statesman, reported Reuters. One of the songs was called "Mandela you brought us peace".
Mandela's death comes at a time when his country has been reeling from violent protests against poverty, crime rate, unemployment and corruption scandals under the leadership of South African President Jacob Zuma.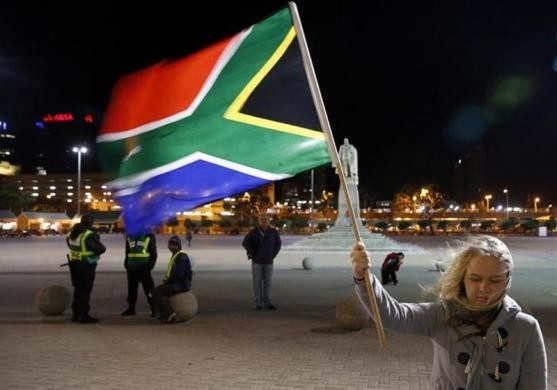 Mandela's connection with India was strong. As a strong follower of Gandhi's teachings, he was awarded the International Gandhi Peace Price in 2001 for his peacemaking efforts by the Indian government.
He was the second foreign recipient of the Bharat Ratna, the nation's highest civilian award. After his release in prison, where he spent nearly 25 years for his anti-apartheid efforts, Mandela often visited India and invited Indian dignitaries to South Africa.
Below are statements released by some Indian leaders and celebrities, on the death of Nelson Mandela:
Manmohan Singh, Indian Prime Minister: "A giant among men has passed away. This is as much India's loss as South Africa's. He was a true Gandhian. His life and work will remain a source of eternal inspiration for generations to come. I join all those who are praying for his soul."
Narendra Modi, NDA prime ministerial candidate and Gujarat CM: "RIP Nelson Mandela. The world has lost an apostle of peace & non-violence who redefined the journey of his nation for the good of humankind. Many of us are not fortunate to see Gandhi ji alive. We are blessed to see the life of Nelson Mandela, who embodied his values & ideals. My heartfelt condolences to Nelson Mandela's family & the people of South Africa. We stand by them in this hour of grief."
Sonia Gandhi, Congress president: "He was a beloved figure in India, one of the first countries he visited in 1990. He belonged to the entire humanity."
Amitabh Bachchan, Bollywood actor: "Nelson Mandela - a giant of a man ; of will, belief and perseverance, passes away. But leaves behind a legacy of fight for right !! I had the greatest honor to meet and spend time with him on two occasions ! His humility his greatest asset, among countless other !
Ramachandra Guha, Historian and Author of 'India After Gandhi': "Nelson Mandela was, next only to Mahatma Gandhi, the greatest person of the 20th century. In some ways he was more likeable than Gandhi. Mandela has strong Indian connections: he knew Gandhi's son Manilal, and was a close friend of Yusuf Cachalia, son of a friend of Gandhi's. Mandela is usually compared to Gandhi, but in fact the politician he most admired was Jawaharlal Nehru, for his courage, and charisma."
Anupam Kher, actor and author: "Hope, Courage, Struggle, peace, Compassion....With Nelson Mandela, a part of these expressions also died today. Thank You for your Life. RIP."
Sushma Swaraj, Leader of Opposition (Lok Sabha): "Nelson Mandela - He was a monument of struggle against injustice."
A small man makes u feel small. An great man makes u feel great! pic.twitter.com/5PvYACR0Ys

— Mahesh Bhatt (@MaheshNBhatt) December 6, 2013
Pranab Mukherjee, President of India: "President Mandela was a statesman, world leader and icon of inspiration of humanity. He was a great friend of India and his contribution for strengthening the close ties between our two countries will be always remembered. He was awarded the Bharat Ratna in honour of his contribution to the friendship between our two countries." Anil Kapoor, actor and producer: "Lead from the back- let others believe they are in front"-RIP Nelson Mandela-Salute to a Great man. Omar Abdullah, J&K Chief Minister: "RIP Madiba. I'm honoured to have met you. Thank you for one of my most prized possessions - your signed book "
RIP Madiba. I'm honoured to have met you. Thank you for one of my most prized possessions - your signed book pic.twitter.com/kGrofQkkav — Omar Abdullah (@abdullah_omar) December 6, 2013
Akshay Kumar, actor: "A good head and a good heart are always a formidable combination." Couldn't be more true... #RIPNelsonMandela
Mayawati, Bahujan Samajwadi Party chief: "I think Baba saheb Ambedkar and Nelson Mandela had a similar life of struggle. I pay my tribute to both."
Shah Rukh Khan, actor: "RIP Nelson Mandela...Some people should not die...for the sake of the lack of goodness left in this world... there should always be a repository of good that everyone knows exists in order to remind humanity of what it ought to be."
Farhan Akhtar, filmmaker and actor: "He was the master of his fate. He was the captain of his soul. RIP Nelson Mandela"
Shabana Azmi, Indian actress: "What an outpouring of love n respect for Nelson Mandela- a deep reverence cutting across all divides on what he stood for at all times RIP."
Several world leaders also condoled the death of the revolutionary leader.
Barack Obama, US President: "A man who took history in his hands and bent the arc of the moral universe towards justice. Let us pause and give thanks for the fact that Nelson Mandela lived."
David Cameron, UK Prime Minister: "A great light has gone out in the world. Nelson Mandela was a hero of our time. I've asked for the flag at No10 to be flown at half mast. I've spoken to the Speaker and there will be statements and tributes to Nelson Mandela in the House on Monday."
Jacob Zuma, South African President: "We've lost our greatest son. Our nation has lost its greatest son. Our people have lost a father. Although we knew that this day would come, nothing can diminish our sense of a profound and enduring loss."
Desmond Tutu, archbishop emeritus and anti-apartheid activist: "Like a most precious diamond honed deep beneath the surface of the earth, the Madiba who emerged from prison in January 1990 was virtually flawless ... Instead of calling for his pound of flesh, he proclaimed the message of forgiveness and reconciliation, inspiring others by his example to extraordinary acts of nobility of spirit. "
Dalai Lama: "It is very sad. He was a great peacemaker and a determined leader. I had met him (Nelson Mandela) on a few occasions, I admired him. We must carry forward the spirit."
Shinzo Abe, Japanese Prime Minister: "He fought for the abolition of apartheid with strong will. On nation building, he made a major achievement with focus on the reconciliation of the people. He was a great leader."
One of the great honors of my life was to be invited to Nelson Mandela's home, spend private time and get to know him http://t.co/IfZKtgvlU8

— Oprah Winfrey (@Oprah) December 6, 2013
Angela Merkel, German Chancellor: " His name will always be associated with the fight against the oppression of his people and with overcoming the apartheid regime. Not even years in prison could break Nelson Mandela or make him bitter - a new, better South Africa eventually emerged out of his message of reconciliation ... Nelson Mandela's shining example and his political legacy of non-violence and the condemnation of all forms of racism will continue to inspire people around the world for many years to come. "
Queen Elizabeth II said she is 'deeply saddened' to learn of Nelson Mandela's death and has sent her 'sincere condolences to his family and to the people of South Africa'.
Yousaf Malala Fund: "Education is the most powerful weapon that you can use to change the world." Nelson #Mandela. RIP #Madiba, your voice will live on forever."