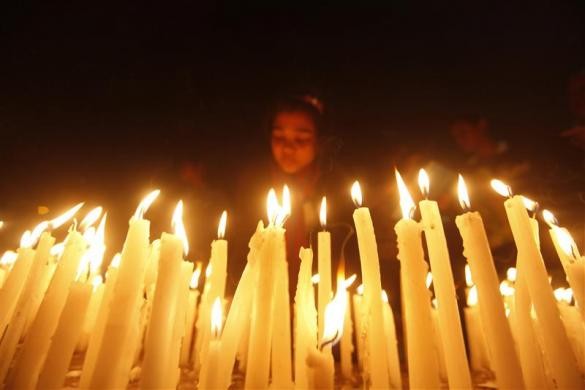 The body of the 23-year-old rape victim, who succumbed to her injuries in a Singapore hospital, was cremated in New Delhi after arriving early Sunday.
The victim, who put up a strong battle for survival, died on Saturday morning after suffering multiple-organ failure at Mount Elizabeth Hospital where she had been taken for treatment. Prime Minister Manmohan Singh and UPA Chairperson Sonia Gandhi were at the airport to receive body of the victim. The body was flown back to India in a charted aircraft, AIC-380A of Air India.
The girl's body was transported in an ambulance from the airport to the Mahavir Enclave residence where the girl's family lived. Tight security arrangements were in place at the crematorium where the last rites were performed. Minister of state for home affairs RPN Singh, West Delhi MP Mahabal Mishra, Delhi BJP chief Vijender Gupta were also attended the funeral.
The Delhi-based paramedical student was gang raped in a moving bus on Dec 16 when the girl and a male friend were returning home after watching a movie. The girl was repeatedly raped and assaulted by six men who later threw the couple onto the road. She was initially taken to Safdarjung hospital before being shifted to the Singapore hospital where she breathed her last.
The brutality of the incident has spawned protests across the country. The government has tightened up security across the capital soon after the news of the girl's death emerged. India Gate and the surrounding compounds came under under tight police vigilance. Demonstrators have planned peaceful protests across the country to mourn her death.
According to the latest reports, traffic restrictions around the capital will continue on Sunday. Fearing violence, state officials continued the shutdown of ten metro stations.
"For those going from Dhaula Kuan to New Delhi, routes available are: Sardar Patel-Mother Teresa Crescent-round about RML-to Gol Dak Khana; from Dhaula Kuan to upper ridge road then from round about Shankar Road to round about RML and onwards. For those from South to North, route is Lodhi Road-Subrahmmaniam Bharti Marg-Zakir Hussain-Mathura Road-w point-a point then left on to Deen Dayal Upadyaya Marg for Delhi gate or right for Ring Road. For those going from North of Rajpath to South of Rajpath, route available is round about Ram Manohar Lohia to GPO round about Patel Chowk-Windsor round about-KG Feroz Shah-Mandi House-Sikandra-Mathura Road-Subrahmaniam Bharti Marg," said the Delhi Traffic polic as quoted by NDTV.
Click here to view images of the anti-rape protests in Delhi.