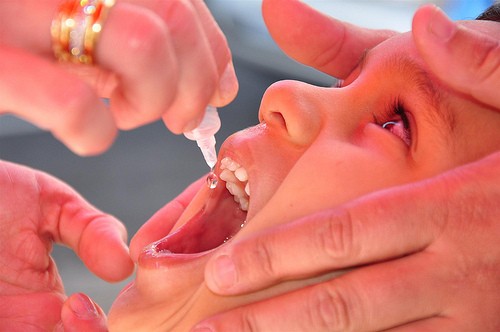 India has made oral polio vaccine (OPV) mandatory for all travellers visiting or going out of the country. The new regulation, which came into effect from 1 March, is aimed at preventing re-entry of polio virus from countries like Ethiopia, Afghanistan, Syria, Kenya, Somalia, Nigeria and Pakistan.
Travellers from these seven countries should take OPV at least six weeks prior to the date of departure from their country, Ministry of Health and Family Welfare announced on Monday.
"Years of efforts and huge financial resources have been invested by India for stopping polio in India. We cannot risk importation of poliovirus, which is getting bigger and bigger with the recent outbreaks in the Middle East and earlier in the horn of Africa region," Ms Anuradha Gupta, Additional Secretary, Ministry of Health and Family Welfare, Government of India, said in a statement. "This new preventive measure has been initiated as per the recommendations of the national and international expert bodies and the guidelines of the World Health Organization."
The new polio vaccination regime comes at a time when India is awaiting polio-free certification from the World Health Organization (WHO). On 13 January, Monday, India completed three years without a single case of polio. It was in 2011 the last case of polio was reported in India, when a two year-old girl from Howrah district of West Bengal was paralysed by the infection. However, the risk posed by travellers from polio infected areas continued to be a source of concern among the health officials.
Officials from the World Health Organization welcomed the new move. "World Health Organization supports the Government of India initiative for making polio immunization a requirement for travelers from and to the polio-affected countries. This is also in line with the recommendation of the Independent Monitoring Board of the Global Polio Eradication Initiative," WHO Representative to India, Dr Nata Menabde, said.
Polio is an infectious disease that affects small children aged below five. According to WHO, the virus, that enters body through contaminated water or food, can invade the nervous system and cause total paralysis within a short time. The virus though normally leads to permanent paralysis, it can also cause death. Fever, fatigue, headache, vomiting, stiffness in the neck, limb pain are some symptoms of the deadly disease.
Though polio cases have declined significantly over the years, last year concern surged due to polio outbreak in countries like Afghanistan (14), Nigeria (15), Pakistan (93), Syria (24), Kenya (14), Somalia (193) Ethiopia (9) and Cameroon (4). According to a Global Polio Eradication Initiative report, Pakistan has recorded seven new cases of polio this week.