After the left-hand-drive (LHD) version of the Compass, the compact SUV from the iconic UV maker Jeep scored 5-star rating in the crash test conducted by Euro NCAP in September this year, the right-hand-drive (RHD) version of SUV has gone on to score 5-star rating in a crash test, this time conducted by the Australian New Car Assessment Programme ANCAP. It tested the right-hand-drive (RHD) Jeep Compass SUV, which is made-in-India and sold in markets like Australia and New Zealand.
The tested model of Jeep Compass was introduced in Australia and New Zealand in December 2017. This ANCAP safety rating applies to all variants built from September 2017. The Compass tested get dual frontal, side chest and side head-protecting (curtain) airbags and a driver knee airbag are standard. It also has other features like Autonomous emergency braking (AEB) and lane support systems (LSS) as options on some variants. A manual-set speed limiter is fitted as standard.
Also read: 2018 Toyota Vios/Yaris Ativ coming to India soon, but how safe is the sedan?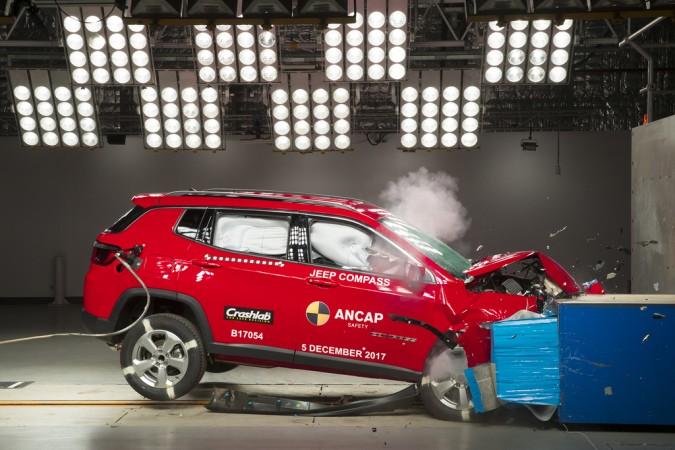 In the frontal offset test, protection for both the driver and passenger head and neck was rated as 'Good' while the chest and legs were rated 'Acceptable'. The passenger compartment held its shape well in the frontal offset test. Pedal and steering wheel displacements were well controlled. All doors remained closed during the crash. In the side impact test, The Compass provided good protection for the driver in the side impact test. The vehicle has side curtain airbags and was also eligible for a side pole test. The vehicle scored the maximum 2 points for head protection in this test.
Also read: Automakers and dealerships that kicked up a storm in 2017: From Baleno RS 'no service' to Jeep showroom customer assault
The Compass, which was launched in India recently, comes with more than 50 safety and security features like Electronic Stability Control (ESC), Anti-lock Braking System (ABS), Dynamic Steering Torque (DST), Hill Start Assist (HSA), Adaptive Brake Lights, Panic Brake Assist and more. In India, the Compass is offered with a 1.4-litre petrol engine that produces 160 bhp and 250 Nm of torque and 2.0-litre diesel engine that churn out 173 bhp and 230 Nm torque.