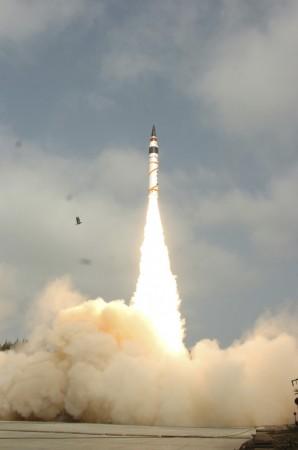 India on Sunday joined the select league of nations - USA, France, Russia and China - to launch nuclear-tipped missiles from sea by successfully test-firing its underwater ballistic missile, K-15, which has a range of 700 km.
Completing India's nuclear triad, which refers to its ability to fire missile from land, air and sea, the indigenously built K-15 missile was launched from a pontoon in the Bay of Bengal off Visakhapatnam coast, meeting all the objectives of the mission.
"The medium range K-15 ballistic missile was test fired successfully today from an underwater pontoon and all parameters of the test firing were met," Defence Research and Development Organisation (DRDO) chief V K Saraswat told PTI.
"This is a significant development and capability enhancement. The launch of the SLBM (Submarine-Launched Ballistic Missile) is a complex technological development. And now since the missile is ready for induction, this is a major punctuation in India's indigenous missile development programme," said security expert Commodore (retd) Uday Bhaskar.
The development of the K-15 missile started in the late 1990s with an aim to build SLBM. It has a length of 10 metres, weighs 17 tonnes and can carry a payload of up to 1,000 kilograms. The test firing on Sunday was the final development trial of the missile which is expected to be integrated with INS Arihant soon.
It is said that India is now in the process of developing the K-4 missile which has a range of 3,000 km.
The nation was in the news last year after the successful launch of Agni-V, a solid fueled Inter-continental Ballistic Missile (ICBM) which is capable of reaching deep into Asia and Europe. The indigenously-built missile has a range of more than 5,000 kilometers (3,100 miles).