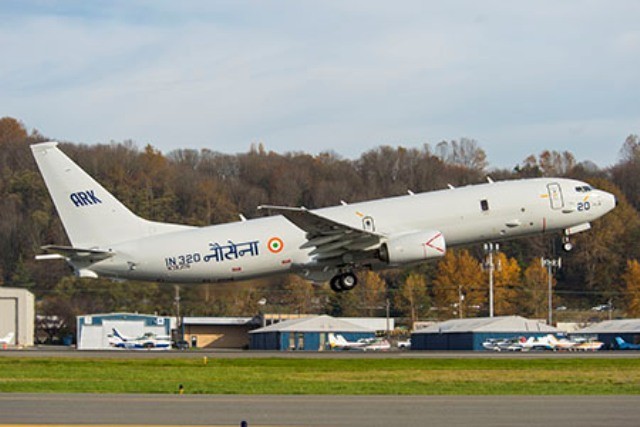 The Indian Navy inducted the second Boeing P8I long range maritime reconnaissance and anti- submarine warfare aircraft on Friday.
The aircraft is based at Indian Naval Ship (INS) Rajali air base in Arakkonam in Tamil Nadu, along with the first P8I aircraft, which was delivered in May this year.
"The second P-8I landed at Rajali during the day," The New Indian Express quoted Defence officials.
P8I is said to be replacing the aging Tupolev-142 aircraft fleet currently in service with Indian Navy. The aircraft with long range surveillance capabilities is expected to watch over the areas that extend from Gulf of Aden on the West to Malacca Straits on the East.
"With two aircraft at Naval Station Rajali now, the Indian Navy will get a good feel for the P-8I's interoperability with other aircraft," said Leland Wight, Boeing P-8I program manager in a release.
India ordered for eight P8Is from the US based aircraft maker Boeing in January 2009 for ₹11000 crore.
The aircraft is based on the Boeing 737-800(NG) airframe and US Navy's variant P-8A Poseidon, also built by Boeing. It is built by a Boeing-led team including CFM International, Northrop Grumman, Raytheon, Spirit AeroSystems, BAE Systems and GE Aviation.
The P-8I is said to include India's unique design features and customised subsystems to suit the country's maritime patrol requirements. The aircraft is said to have a fly non-stop capability to reach the eastern or western end of the Indian Ocean. The maximum speed of the aircraft is over 750 kilometres per hour and can reach an altitude of over 12000 metres.
The aircraft is integrated with state-of-the-art sensors, anti-surface and anti-submarine weapon for maritime reconnaissance, anti-submarine operations and electronic intelligence missions. It is also equipped with the Harpoon anti-submarine weapon system and torpedoes.
India is the first international customer of P8I. The other six aircraft will be delivered over one and half years.