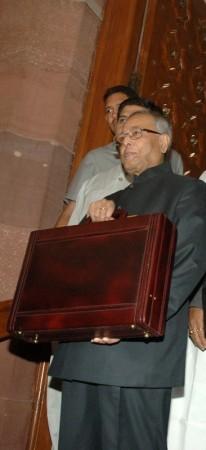 Leading business bodies and industrialists in the country welcomed the Union Budget 2012-2013 presented by the Union Finance Minister Pranab Mukherjee in the Lok Sabha Friday.
Reacting to the Union budget, Federation of Indian Chamber of Commerce and Industry (FICCI) president R V Kanoria praised the Finance Minister for targeting overall fiscal deficits from present 5.9 percent to 5.1 percent.
However, stating that the budget presented in the Lok Sabha is not going to stimulate growth in the economy, the FCCI has said that the budget seeks to raise additional Rs 40,000 crore revenue through taxation, but there is no mention of controlling subsidies on diesel and food.
The Associated Chambers of Commerce and Industry of India (Assocham) said the Union Budget for 2012-13 is well-balanced and pro-active with well-defined measure to bring back the economy on higher growth track.
Despite current economic situation coupled with domestic political compulsions and challenges like elevated inflation, the government has tried to tread the path of fiscal consolidation with prudent macro-management, Myiris.com quoted Assocham president Rajkumar Dhoot as saying.
Adi Godrej, president designate at CII and chairman, Godrej Group, told to CNBC-TV18, "I was happy to hear his Budget speech on power, coal, infrastructure and agriculture. There were some good announcements there - I hope it's followed up. Execution will be important but the announcements were good. The disappointing part was the excise duty hike."
Vijay Mallya, Chairperson of Kingfisher Airlines, said that it was a good balanced and pragmatic budget.
"Finance Minister in budget speech announces for Aviation (a) ECB upto $ 1.0 b (b) direct import of fuel (c) FDI upto 49% by foreign airlines," Mallya posted on his Twitter wall.
Chanda Kochhar, CMD of ICICI Bank, said fiscal deficit 5.1% of GDP as positive news, but more than expected borrowing limit was negative due to which bond yields spiked.
Stating that the Union Budget as a "realistic one", Uday Kotak, executive vice-chairman and managing director, Kotak Mahindra Bank, told CNBC-TV18: "Expecting something dramatically reformist in current situation not realistic."
In an interview, Ashok Wadhwa, group CEO, Ambit Holdings, told the TV channel, "This budget is low on delivery and high on F&O. A lot of good measures, if executed appropriately and in time. I had not expected the category to be broadened and taxes to go up."