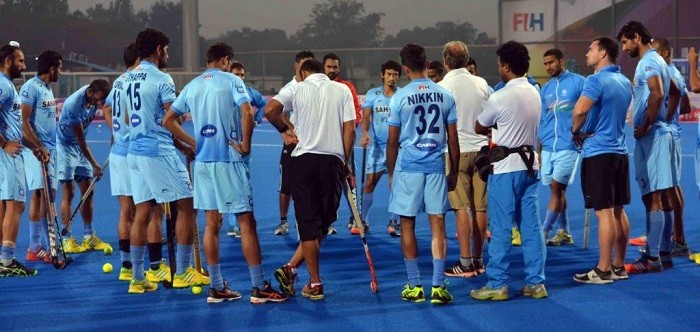 Just a day after Paul van Ass claimed he has been fired from his position as India coach, Hockey India president Narinder Bhatra took a dig at the Dutchman stating he is not a good coach. A special committee comprising of former Olympians and a few other high-profile officials will meet on Friday to take a call on van Ass' future.
"Paul is a good manager and a good motivator but not a good coach," Batra spoke to NDTV.
It is not wise for Batra to refer van Ass as "not good coach" for the Indian hockey team had started performing under the Dutchman as was witnessed in the Azlan Shah Cup and Hockey World League Semifinal, where they finished third and fourth respectively. India's captain Sardar Singh had even mentioned that van Ass was the best coach in the world.
It was also under the guidance of van Ass that Netherlands finished with a silver medal in the 2012 London Olympics.
Narinder Batra also brought into light the functions of a coach of the India hockey team, when compared to some of the other nations.
"I am the one who is upset, is factually incorrect," Batra added. "I feel he has realised that unlike in Holland, where he would have a forward coach, a defender's coach, a coach for the mid-field, a strategist, a video analyst, etc, here in India he would have to perform on his own. That he has realised."
The root of all the problems goes back to the Hockey World League after India's victory over Malaysia, where van Ass' men came from behind to defeat Malaysia 3-2. Batra, after being given the permission by van Ass, according to Batra himself, to talk to the players, stated the importance of keeping the winning run going, which seemed to have upset van Ass.
Batra claimed, the Dutchman suddenly intervened and asked Batra to leave.
"I was talking to them in Hindi. I spoke for about 45-50 seconds and told them that 'your performance needs to be consistent. You had defeated Australia in Australia. You need to be more consistent as you guys are playing together for four years now. Nobody likes loses, not even the sponsors. So you need to be winning more'," Batra said.
"My next sentence would have been that forget about all the previous matches and concentrate on the upcoming games and try to be in the final. But before I could finish, Paul intervened and said 'I am the coach and you leave'. His tone was pretty rude.
"Then I left, saying that 'we will talk about this later, we need to talk about this, Paul'. After that India played two more matches, even the women's team was playing, I watched those matches but Paul never had the time to come to me or ask for any time."
The incident between the Batra and van Ass has shed a bad light on Hockey India, and amidst all this furore, it is the players of the India team, who are at loss. The 2016 Olympics is just a year away and such issues do not help in the preparations.