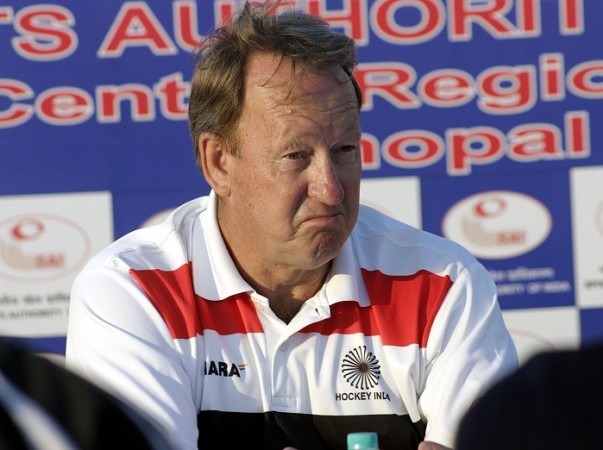 Union minister for sports Sarbananda Sonowal has convinced India's chief hockey coach Terry Walsh to reconsider his decision to quit.
Walsh, who had submitted his resignation soon after helping India clinch gold at the 2014 Asian Games in Incheon last month, was in talks with the Sports Authority of India (SAI) regarding a new and improved contract, with a list of demands.
The Australian reportedly wants permission to work from his home town Perth, financial incentives, support staff of choice and autonomy in allocation of funds.
Walsh then stepped down on Tuesday, saying that the two meetings between him and the SAI panel did not yield the desired results, thereby ending his tenure.
However, the state of affairs has now taken a fresh twist as sports minister Sonowal met the coach at his office. The Union minister, who listened to Walsh's proposals, is understood to have agreed to "all of them in principle".
"The minister applauded Terry Walsh's recent performance and believes that Walsh is the right man to take Indian hockey forward," The Times of India quoted SAI executive director Sudhir Setia, who was part of the panel, as saying.
"The minister patiently listened to Walsh's proposals and has agreed to all of them in principle. However, Walsh stated that he needs a few days off to go back to Australia. He will then have a relook at all the proposals offered in a positive manner towards renewal of his contract."
Walsh has also expressed his delight with the latest development in the matter.
"I am far more optimistic today than I was yesterday. But interestingly all this happened at the last moment. This seems to be the way (in India). I really hope it works. I am much more pleased with the situation (today) than what it was yesterday," the 60-year-old pointed out.
However, it is also known that though the sports ministry is likely to give the green light to most of Walsh's demands, there are some concerns regarding giving the coach full financial autonomy.
"He wants financial autonomy for purchasing equipment and all. But how can such authority be given to a foreigner?" the report quoted a source.