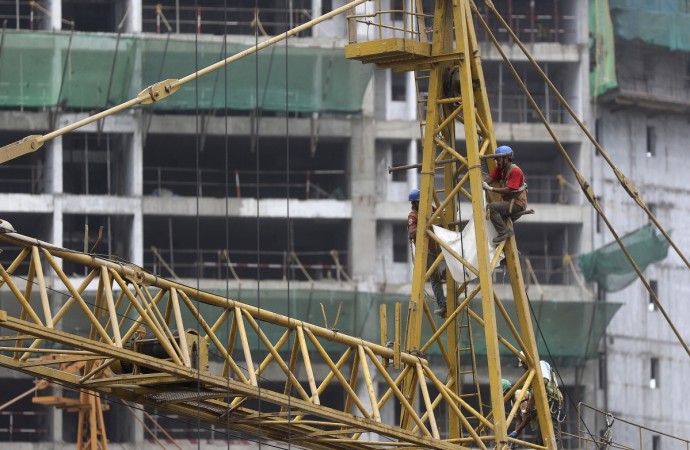 India, Asia's third-largest economy and currently the world's fastest-growing, grew at 7.1 percent during the first quarter (Q1) ended June 2016, lower than 7.9 percent in the preceding three-month period and 7.5 percent in the corresponding period last fiscal. It was also the slowest pace of growth in six quarters.
Major sectors that contributed to the slowdown included agriculture, mining and construction, while manufacturing grew at a higher clip.
Construction was the biggest disappointment, with growth slowing down to 1.5 percent in Q1 as against 5.6 percent in the corresponding period last fiscal, according to data released by the government on Wednesday evening after trading hours.
Agriculture growth dropped to 1.8 percent in Q1 from 2.6 percent in the year-ago period, while mining contracted by 0.4 percent when compared to 8.5 percent growth in the first quarter of last fiscal.
On the positive side, manufacturing sector grew higher at 9.1 percent in Q1 in comparison to 7.3 percent in the first quarter of 2015-16.
Services sector grew at a higher clip of 9.6 percent as against 8.8 percent in the year-ago period.
The growth figures for the past five quarters are 7.9 percent (Q4, 2015-16); 7.2 percent (Q3); 7.6 percent (Q2) and 7.5 percent (Q1).
The Q1 GDP numbers come in the backdrop of the Reserve Bank of India's growth estimates of 7.6 percent for 2016-17, up from 7.2 percent in the previous financial year.
"A better than anticipated agricultural performance and the possibility of allowances under the seventh pay commission's award being paid out in Q4 of 2016-17 provide upsides to this projection," the central bank had said in its annual report for 2015-16 released a few days ago.
The growth data surprised analysts' expectations. "This number is much, much below the market expectation," Reuters quoted Devendra Kumar Pant, chief economist at India Ratings and Research, as saying.
Suvodeep Rakshit, economist at Kotak Institutional Equities, said in a note that low capacity utilisation will ensure investment cycle remains "subdued" while saying that "rural demand through monsoon-led income effect and urban demand through 7CPC related payouts" will drive growth in the remaining quarters.