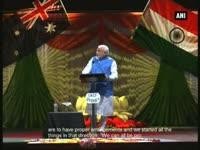 Leading global rating agency Moody's on Tuesday said that India's gross domestic product (GDP) is expected to grow by a solid 7.5 percent in the current financial year, the highest among G20 economies, aided by reforms and cheap crude oil prices.
"We forecast strong growth in India... At 7.5 per cent in 2015-16, the highest among the G20 economies. Lower oil prices will reinforce gradual growth-enhancing reforms to support robust economic activity over the forecast period," Moody's Investors Service said in a report.
Moody's forecast is similar to that of the World Bank and the International Monetary Fund (IMF), which also expect the Asia's third largest economy to grow by 7.5 percent in the current fiscal.
The agency said that India remains at advantage from shrinking external imbalances.
"We expect a broadly balanced current account for the first time in 10 years, thanks to lower energy import bill and restrictions in gold imports," Moody's told DNA.
Among the G20 economies, Moody's said, India would benefit to a great extent from the falling oil prices as it meets most its oil requirements from imports.
G20, a group of 20 developing and industrialised economies, accounts for 85 percent of the global economic output.
Besides, Prime Minister Narendra Modi's 'Make-in-India' campaign is expected to strengthen domestic manufacturing sector, the agency said. It expects reforms to bring in more investments into the country, driving the growth higher.
"If implemented as intended, these reforms and the wide support for business-friendly policies will help achieve higher investment growth than in 2013-14," Moody's said.
However, the Modi government was recently criticised by many investors as they grew impatient over the slow pace of initiating reforms towards creating business-friendly environment.
Despite being in power for almost one year now, the government has not been able to stimulate demand and boost investment, resulting in disillusionment among investors, a global brokerage CLSA, told NDTV Profit.
Moody's believes that a move towards targeting the inflation by the Reserve Bank of India (RBI) would result in containing the spill over effect of higher food prices to other goods, services and wages.
"We forecast that ongoing moderate inflation will enable better planning of investment. Lower inflation will also raise real incomes, profits and overall GDP growth," it said.
Food prices have already been pressurised by unseasonal rains and the prediction of a below normal monsoon this year by the country's weather agency would weigh on food inflation further.
The CPI inflation has risen to 5.17% in March from 3.3% in November on the back of increase in food prices.