India got its first air-conditioned (AC) local on Monday when a special train was flagged off from Borivali station in Mumbai.
Here are seven things you need to know about this special train, several of which will start plying in Mumbai from January 1, 2018.
1. First of its kind: According to the Ministry of Railways, this is India's "first ever broad-gauge air-conditioned (AC) EMU suburban train." It consists of 12 cars (coaches) and is "fitted with an indigenous three-phase propulsion system."
2. Operating schedule: The new AC local "will be operated on an experimental basis between Churchgate and Borivali stations for a week, i.e. from December 25 to December 31, 2017," according to the ministry.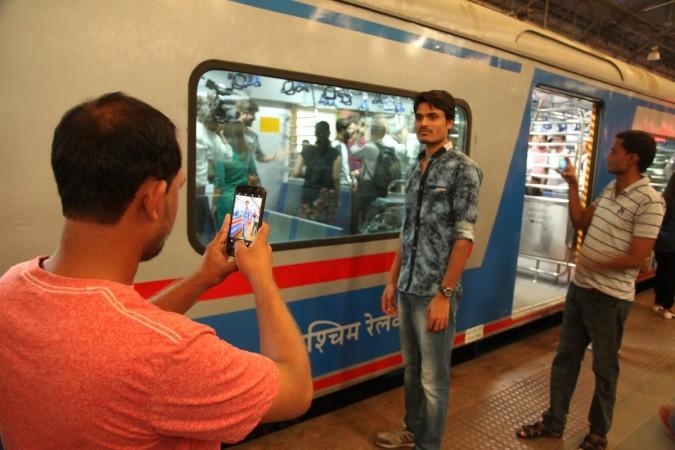 It added in its statement: "Afterwards, w.e.f. January 1, 2018, this AC local train will be operated on a regular basis as per the scheduled time table between Churchgate and Virar stations."
The ministry also said: "Accordingly, w.e.f. January 1, 2018, total 12 services (six services in UP and six services in DOWN direction) of AC suburban train will be operated on weekdays only i.e. from Monday to Friday. It is decided that on Saturdays & Sundays, the rake of AC local train will not be operated for maintenance purpose."
Here is the full schedule for UP trains: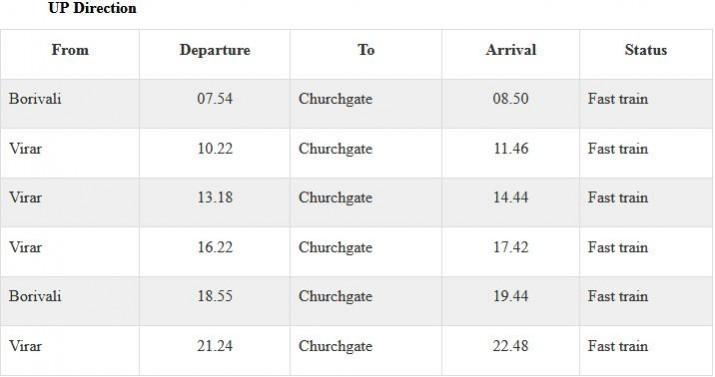 Here is the full schedule for DOWN trains:
3. Fares and season tickets: The base fare of a single journey on AC locals is 1.3 times the base fare of the non-AC locals. However, the fare will be 1.2 times for the first six months of operation.
According to the ministry: "Weekly, fortnightly and monthly season tickets shall be charged equivalent to 5, 7.5 and 10 single journeys of AC EMU, respectively." Holders of such season tickets shall also be eligible to travel in first class coaches of local trains.
Here is the fare breakdown:
4. Specifications: Each train is a full AC rake with a capacity of 30 tons per coach. The carrying capacity of the whole train is 5,964 passengers, although the trains have 1,028 seats.
5. Maximum speed: The maximum speed of these trains will be 100 km per hour, which may be attained by some of the "fast" locals — trains that skip some stations while plying.
6. Safety measures: Several safety measures have been built into the AC locals. These include an automatic door closure system, a LED-based coach identification system for alarm chain pulling and door malfunctioning, an emergency talk-back system through which passengers can seek assistance from the guard of the train in distress, and passenger alarm indication lights in all coaches.
7. Comfort features: Made at Indian Railways' Integral Coach Factory in Chennai, the AC locals have GPS-based passenger information systems with an audio-visual indication of stations, air suspension system for better passenger comfort, wide and large double-sealed glass windows for panoramic viewing, and modular polycarbonate seats for passenger comfort.