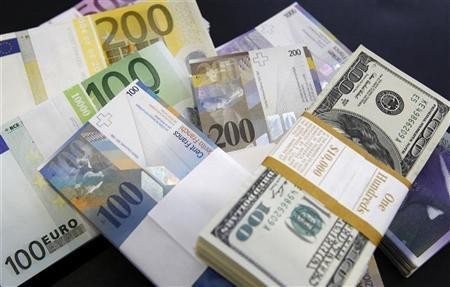 One of the first things that Prime Minister Narendra Modi did after coming to power was promise to bring back India's black money stashed abroad and constituted a Special Investigation Team (SIT) for the purpose.
Less than a month later, the SIT is ready to swing into action, after the Switzerland government said on Sunday that it would share a list of the names of Indians, who have directed the money to Swiss banks to escape taxes.
The SIT will take action against defaulters who will be named in the list, Justice MB Shah, who heads the team, told the Press Trust of India.
"It is not a list of only black money. It is a list of those persons who are also legally vested. It is a combined list. We are asking for the list of the said persons. Then we will verify. Then action is taken", he said.
A Swiss government official told PTI that the government was in the process of identifying the beneficiary owners of funds held in the nation's banks. He said that the total amount of foreign money from across the world in all 283 banks operating in Switzerland stands at about $1.6 trillion.
The development comes just days after it was reported that the amount of money held by Indians in Swiss banks had increased by more than 40 percent in 2013 from the previous year. According to the data published by the nation's central bank, Swiss National Bank (SNB), there was ₹14,000 crore of money held by Indians, directly or through fiduciaries, in Swiss banks.
Forming the SIT was one of the first decisions Modi took on his first day of work as the Prime Minister on 27 May, after he was sworn in on 26 May.
India is one of the 36 countries, with which Switzerland has signed treaties to provide administrative assistance in tax matters in accordance with international standards, according to the PTI report.
Black money is officially defined as assets that haven't been reported to authorities at the time of their generation or disclosed at any point during their possession. Usually, a large portion is converted into gold and held in households domestically. It's also legal for Indian residents to hold money in foreign bank accounts as long as they disclose it and pay taxes, as per a MINT report.
"If it is legal we cannot do anything, If it is illegal or unaccounted money then we take action. It depends on which manner the amount is deposited," Shah said about the pending Swiss list.
While Swiss banks are known to have a significant amount of Indian black money, Indians have stashed tax-evaded money in several other countries too, and a study by Assocham highlighted that ₹120 lakh crore of Indian black money was stored overseas, reported NDTV.
Update:
Finance Minister Arun Jaitley said on Monday that the government had not received any information on the details on black money from the Switzerland government. His statement comes a day after it was reported that the Switzerland government had agreed to share details about Indians who had kept their money in Swiss banks to avoid taxes. Jaitley said he would write to the Swiss government for more information on the matter.