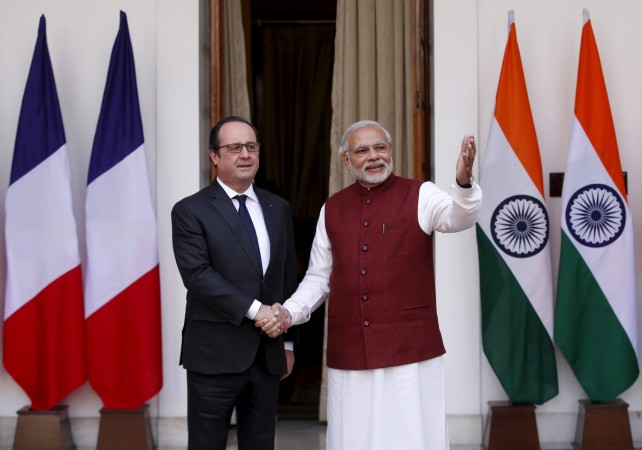 India and France on Monday signed 13 agreements, including government-to-government MoU for the purchase of 36 Rafale fighter jets, after Indian Prime Minister Narendra Modi held talks with French President Francois Hollande in Delhi.
The other agreements signed included nuclear cooperation, wherein the two counties agreed to build six nuclear reactors in Jaitapur. India and France also agreed to developed India's railway sector as well as development in science and research.
"Leaving a few financial aspects, an inter-governmental agreement on the purchase of Rafale jets has been signed," Modi said in a press statement. "We hope that the financial aspects will also be completed soon," he added.
Hollande said that the financial issues over the Rafale aircraft deal will be resolved in a "couple of days".
The agreements touched upon smart cities, solar and nuclear energy as well as security and the fight against terrorism, Modi said.
The two leaders called for the adoption of a 'Comprehensive Convention on International Terrorism' to counter terror funding and radicalisation.
"From Paris to Pathankot, we saw the gruesome face of the common challenge of terrorism," the Indian prime minister said.
Here is a gist of the 13 agreements between India and France are about -
The first two agreements will see cooperation between the Indian Space Research organisation (ISRO) and the French government space agency on a thermal infrared earth observation mission as well as a payload on an Indian satellite. The third agreement was on the French space agency's intent on joining ISRO's next Mars Mission.
The next two agreements were on on cooperation in the railways sector, including a joint venture between Indian Railways and Alstom on producing 800 electrical locomotives in Bihar, as well as studying the renovation of the Ludhiana and Ambala railway stations.
Two other agreements looked at cultural cooperation, including a Cultural Exchange Programme for 2016-2018.
Agreements for cooperation in science, research and education were also signed.
The 14th agreement was on the purchase of 36 Rafale Fighter jets, except for some financial issues which both sides have agreed to resolve soon, External Affairs Ministry spokesperson Vikas Swaup said on Twitter.