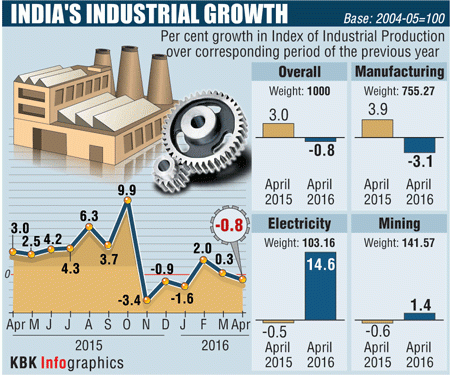 Factory/industrial output growth contracted 0.8 percent in April 2016 weighed down by 3.1 percent contraction in manufacturing sector, said government data by the Central Statistics Office (CSO) of the Ministry of Statistics and Programme Implementation. In April 2015, industrial output had grown 3 percent on account of a 3.9 percent growth in the manufacturing sector.
For the full year of 2015-16, index of industrial production (IIP) grew at 2.4 percent compared to 2.8 percent growth witnessed in 2014-15. Manufacturing growth for the entire year was 2 percent as against 2.3 percent the previous year.
IIP measures the growth in industrial output and is primarily based on three important sectors, namely: mining, electricity, and manufacturing. Manufacturing consisting of 22 industries accounts for 75 percent of the index, therefore forming the crux of India's IIP numbers.
In April 2016, mining and electricity continued to clock growth rates of 1.4 percent and 14.6 percent, respectively. Both the sectors witnessed nearly 0.5 percent contraction over previous year. However, manufacturing for the month saw nine out of 22 components witnessing contraction.
Among the use-based classification of the index, which primarily defines the potential the economy has in store, the key component of capital goods that can spur investment and employment saw the biggest decline by 24.9 percent. For 2015-16, capital goods output contracted by three percent compared to growth of 6.3 percent in 2014-15.
In April 2016, basic and intermediate goods grew at the rate of 4.8 percent and 3.7 percent, respectively. Consumer goods (durable and non durable included) also contracted by 1.2 percent in the same month.