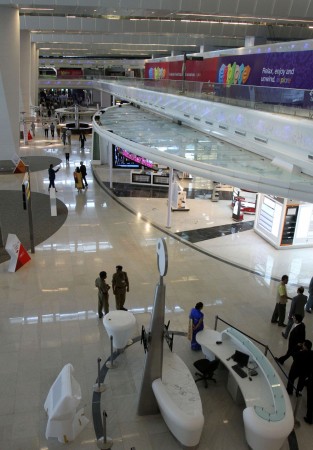 Consultancy firm Centre for Asia Pacific Aviation (CAPA) cautioned that Indian airports could face "capacity crunch" if they fail to add new airports and do not invest in airport infrastructure in the next 10-15 years.
On Wednesday, CAPA released a report titled "India's Airport Capacity Crisis", where it predicted that the number of passengers at Indian airports will grow 10.3% to 556 million by 2025. In financial year 2016, the number stands at 190 million.
"This will place immense pressure on metro and non-metro airports, the economic repercussions of an airport capacity crunch could be unthinkable," Business Standard cited the CAPA report.
One way to tackle the capacity crunch, the report said, will be to build more airports and invest approximately $40 billion (Rs 2.72 lakh crore) to improve infrastructure in the next 10-15 years.
India's aviation market growth was the fastest in the world with 25.1% rise in air traffic in November, while as that of US, which is the largest aviation market in the world, had only 9.1% growth in the same month, according to the International Air Transport Association report.
CAPA predicted that such rise in passengers and air traffic in India could lead to the airports in Indian metro cities to reach its saturation. Bangalore, Hyderabad, Delhi, Kolkata, Mumbai and Chennai airports will need newer airports to decongest them.
"We need second airports functional when current airports reach 70-80 percent of their structural capacity," Kapil Kaul, CEO South Asia at CAPA, said to The Hindu Business Line.
It highlighted that the current capex for Indian airports, which was around $4.9 billion, will not be sufficient for the necessary expansion. It noted that China, another emerging market, has plans to invest $130 billion in airports over the next 10-15 years.
The report added further that of the "30 largest non-metro airports operated by the Airports Authority of India, 40 percent are already estimated to be operating over their design capacity."
Some of the airports that will be reaching saturation immediately include the airports of Jammu, Pune, Kozhikode, Mangaluru and Tiruchi, while Thiruvananthapuram and Madurai airports will reach saturation by 2017 fiscal year.
The government has allocated Rs.70,000 crore (approximately $11 billion) in the 12th Five Year Plan for airport infrastructure investment, a figure that CAPA says shows absence of planning. The report warned that India is "dangerously under-prepared to develop the airport capacity it desperately needs".
The government has only approved a second airport for Delhi in Bhiwadi and is considering one for Jewar in Noida. An airport in Navi Mumbai has been approved.
RK Srivastava, Chairman, Airport Authority of India (AAI), told Business Standard that the current available terminal capacity in India is 250 million but only 190 million is being utilised. Moreover, the authority has completed the development of 33 airports, he added.