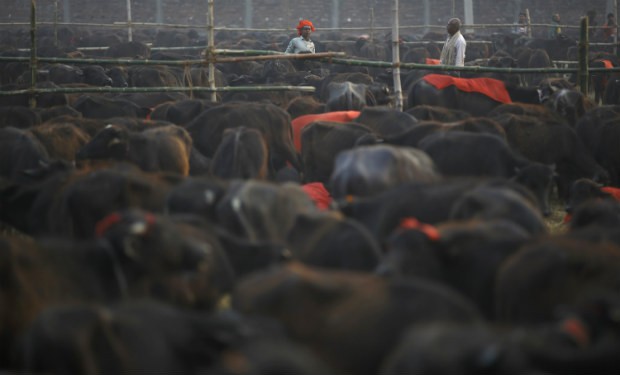 Sanctions-hit Russia is turning to India for supply of buffalo meat just days ahead of President Vladmir Putin's visit to India.
"Russia's veterinary and phytosanitary service Rosselkhoznadzor together with Kazakhstan's Agriculture Ministry has included Indian buffalo meat producers to the register of organisations and individuals involved in the production, processing and storage of goods transported to the territory of the Customs Union (of Russia, Belarus and Kazakhstan)," the Russian veterinary regulator said, reported Businessline citing a PTI report.
Russia and India have deep economic and defence ties but efforts to boost trade to $20bn by 2015 remain stuck at just half the forecast.
Indian companies have been permitted to start exports from 4 December, with local Russian companies making necessary efforts for the import and distribution, reported Itar-Tass, the official Russian news agency.
India is set to receive a permanent inspector, representing the Russian veterinary regulator to exert control over consignments of buffalo meat destined for the regional Customs Union.
India will replace Russia's traditional suppliers from Central and Western Europe, who are suffering retaliatory sanctions from Russia in the face of Western and European Union sanctions over Russia's role in the breakup of Ukraine.
Export of other agricultural products including poultry, powdered eggs and dairy is expected to provide a fillip to the local producers.
Russia is the world's largest importer of tea, and India the second largest producer, but the high price of Indian tea has stifled Russian purchases, allowing Sri Lanka and Kenya to become major players in the Russian import market.
Russian market has been made available to Indian exporters after a significant gap, say sources in New Delhi.
India is home to 58% of the world's buffalo population, with about 88 million buffalos.
The Agricultural and Processed Food Products Export Development Authority (APEDA) lists India as the largest buffalo meat exporter, with 14.49 lakh (1.5 million) tonnes exported, helping bring valuable foreign exchange to the tune of 26,457.79 crore in 2013-14.
More deals are expected to be announced, coinciding with Russian President Putin's visit to strengthen bilateral strategic ties.