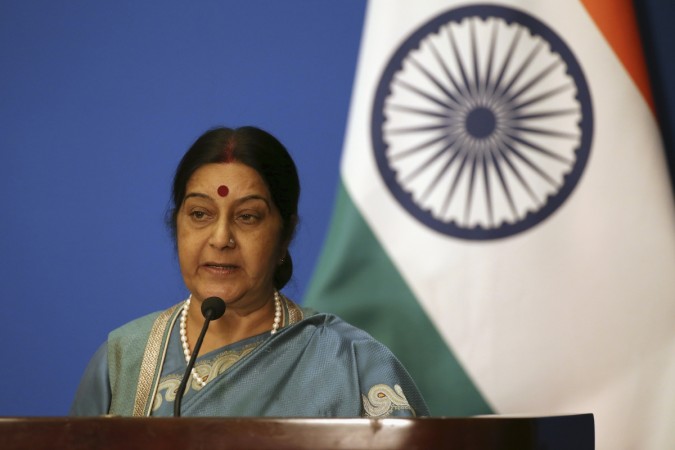 Minister of State for External Affairs General Vijay Kumar Singh will go to Saudi Arabia on Tuesday to oversee the evacuation and assistance to over 10,000 Indian workers going through severe food crisis in the country.
Union Minister of Foreign Affairs Sushma Swaraj said in the Rajya Sabha on Monday that the government has taken the matter seriously and ensured that the issue of pending dues of the Indian workers would be taken up with the Saudi authorities and that all workers would be paid their wages.
"I assure you that no Indian worker rendered unemployed in Saudi Arabia will go without food. I am monitoring the situation on hourly basis. I am happy to say this in Parliament that ration (food packets) has been distributed to all five camps for the next 10 days," Swaraj said in Parliament.
Elaborating on the issue of Indian workers who lost their jobs and have not been paid for several months due to the shutting down of factories in Saudi Arabia, Swaraj said: "We can't leave our workers there. I contacted their foreign office and labour office. We have asked the foreign office to authorise us to bring them from Saudi Arabia... But their payments are also due. So I have asked the labour office that each one of them will sign a contract. Before the company pays the government's (Saudi Arabia) dues, they should first pay these workers."
"Not even a single worker will stay hungry. Everyone will get food, this is my assurance to the country through Parliament," Swaraj said, while adding that all necessary formalities would be taken care of once Gen. Singh reached Riyadh.
The Indian Consulate in Jeddah posted pictures on Twitter that showed free ration and food packets being distributed to the Indian workers.
Another feather in already full cap of CGI n IndianComunity Jedah. Food stuf deliverd 2 40 employes of BinLaden co 2 pic.twitter.com/Nqqi8e9bbb

— India in Jeddah (@CGIJeddah) July 31, 2016
Happy 2 share more pics of Food distribution at Highway camp on July 30, 16.CG, Jeddah wid DCG/Consul(Haj) present 2 pic.twitter.com/WwkcJIsJJ4 — India in Jeddah (@CGIJeddah) July 31, 2016
— India in Jeddah (@CGIJeddah) July 30, 2016
Indian Consulate n Indian Community Jeddah food stuff distribution mission accomplished at 245 AM today morning. Kudos to all. @123nrs — India in Jeddah (@CGIJeddah) July 31, 2016
Swaraj also urged the 30 lakh Indians living in Saudi Arabia to "help your fellow brothers and sisters. There is nothing mightier than the collective will of Indian nation."