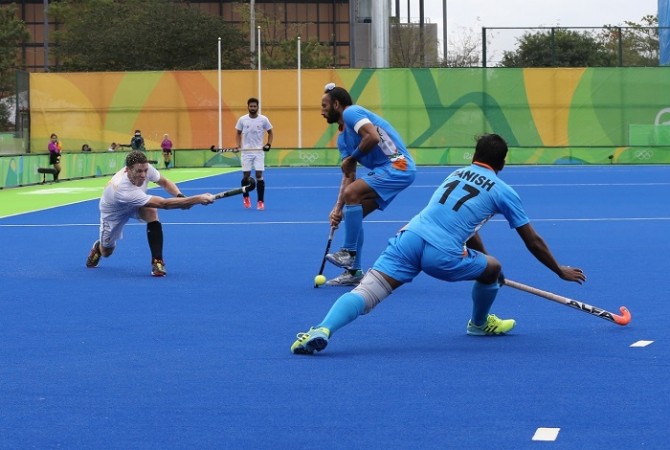 It took penalties to decide who made it to the Asian Champions Trophy Hockey 2016 final on Saturday and the result was India -- the first finalists. The Men in Blue defeated Korea with a 5-4 result in the shootouts after a 2-2 score post the end of four quarters.
Here is how the match panned out:
Quarter 1: India got the much-needed lead just moments before the end of the first quarter as Talwinder Singh slotted the ball in from open play, utilising a great pass from Kothajit Singh. Apart from that, India looked threatening in most of the quarter with Korea moving back to defending and they did manage to prevent PR Sreejesh and Co from scoring more in the half.
Sardar Singh impressed both in defence and in attack. That said, Ramandeep Singh, Rupinder Pal Singh and Akashdeep Singh, too, remained strong. There was a worry about the participation of Sreejesh, but the experienced customer got fit in time for the crucial match.
Score: Ind 1-0 Kor
Quarter 2: Korea kept showing their defensive strength and denied India from making several attacking opportunities. Seo In-Woo scored the equaliser in the 21st minute taking advantage of a defensive error by India. From open play, the Korean twisted and turned to pull the trigger on goal. Luckily for him, the ball got a deflection from Sreejesh's stick and entered into the goal. For India, Ramandeep once again tried his luck on goal but it was blocked.
Sreejesh also made a good save to deny Korea a goal from penalty corner.
Score: Ind 1-1 Kor
Quarter 3: The third quarter saw India mostly getting an upper hand, although much chances were created by neither teams. The score, therefore, remained level. The likes of Rupinder and Ramandeep came close to get back the lead for the Men in Blue but they couldn't come out successful. While Rupinder's shot from the penalty corner was saved by the Korean goalkeeper, Ramandeep tried a shot on goal but that was just a whisker away from the goal post.
Score: Ind 1-1 Kor
Quarter 4: Korea got back the lead through a penalty goal by Yang Jihun just before the end of the match. A brilliant defending by Sreejesh just before the goal saw the India goalkeeper make two back-to-back saves but the Korean attack, with their third shot on goal, earned the penalty after the Indian defender's body came in contact with the ball.
However, there was yet another twist as the equaliser came moments later by Ramandeep. A flurry of attack by the Men in Blue completely puzzled the Korean defence and it was Sardar Singh who was the skills and precision as well as the assist for the goal.
Score: Ind 2-2 Kor
Penalty shootout:
Final score: Ind 5-4 Kor
India scorers: Sardar Singh, Ramandeep Singh, Rupinder Pal Singh, Akashdeep Singh, Rupinder.