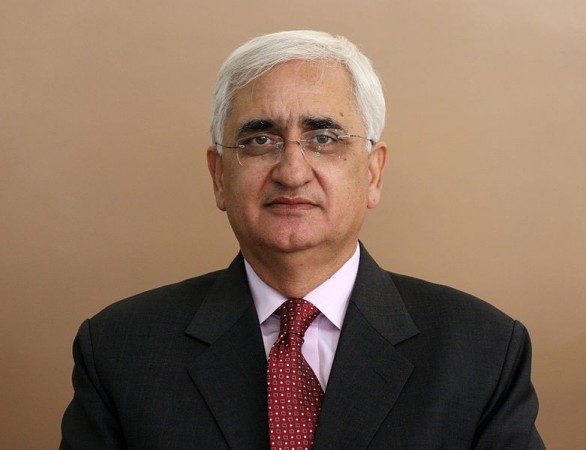 Reacting to Pakistan's Prime Minister Nawaz Sharif seeking US intervention to resolve Kashmir issue, External Affairs Minister Salman Khurshid said that the issue is bilateral.
"Our position has been stated for a very long time. There is no scope of any change or accommodation at this. Jammu & Kashmir is an integral part of India. We value it and it is a part of the sense of our identity and our sense as the nation," said Khurshid during a stopover in London on his way to Washington for a meeting with US President Barack Obama, reported The Hindu.
Sharif appealed to the US during a three-day official visit to Washington where he is scheduled to meet Obama. He said that during his visit in 1999 at the time of the Kargil Conflict, he had told the then US President Bill Clinton that Kashmir issue could not be resolved with US intervention, reported PTI.
"There is no way in which India will accept any intervention on an issue that is entirely accepted in the Shimla Agreement as a bilateral issue between India and Pakistan," Khurshid told NDTV.
US on the other hand said there has not been an "iota of change" in its policy on Kashmir, which considers it a bilateral issue between India and Pakistan, dismissing the latest Pakistani efforts to seek intervention in this regard, reported The Times of India.
The issue of Jammu & Kashmir has gained momentum in the wake of increased skirmishes along the Line of Control recently. India launched an anti-infiltration operation in Keran sector last month to prevent militants from entering India.
During a meeting between Prime Minister Manmohan Singh and Sharif on September 29 this year in New York, both sides had agreed to maintain peace on the Line of Control and abide by the ceasefire agreement made after the Kargil Conflict in 2003.
The territorial issue of Jammu and Kashmir dates back to 1947. India and Pakistan have fought two wars - one in 1965 and another in 1971 over the two states. The skirmishes since 1984 led to a full scale Kargil Conflict in 1999.