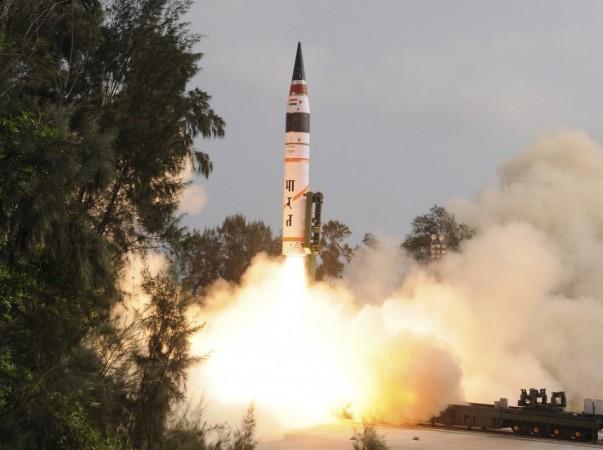 The Defense Research and Development Organization (DRDO) of India is said to be developing its next Agni missile which could carry multiple warheads, according to the new reports.
DRDO chief V K Saraswat has confirmed the report saying, "India is developing Agni VI missile capable of carrying multiple warheads." He also added that the developmental trial of the missile will begin soon.
"Agni-V is major strategic defence weapon. Now we want to make Agni-VI which would be a force multiplier," said V K Saraswat DRDO chief, PTI reported.
The Agni-VI missile is expected to have a higher range than that of the Agni-5 which was launched in April last year. It was also reported that the new missile will come with a more trendy and sleek design which would make it easy to port from one to another place.
"It will have force multiplier capability by the MIRV approach which would enable us to deliver many payloads at the same time using only one missile," said Saraswat.
"Work is on in this area and designs have been completed. We are now in the hardware realisation phase," he added.
According to Zee News, the missile will measure 40 metres in length with a width of 1.1 metre. It was also said that the new missile will have the capability to launch from sub marine and land-based launchers.
"It will be a three-stage missile and taller than the Agni-V. The design is just taking shape and other sub systems are under development. If everything goes as per the programme, the missile will be ready by mid 2014," Zee News quoted a source as saying.