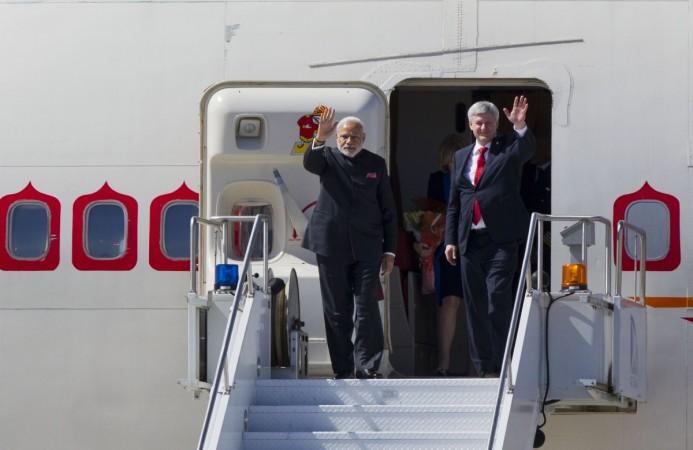 Prime Minister Narendra Modi will soon be flying in the domestic version of US Air Force One, a luxurious highly-secured aircraft that is fitted with sophisticated self-protection suites to jam and strike enemy's missiles and encrypted satellite communication facilities, revealed a media report.
The defence acquisitions council, chaired by Defence Minister Manohar Parrikar, will acquire two Boeing 777-300 (extended range) aircraft from state-owned airlines Air India to build new "Desi Air Force One" aircraft, sources close to the matter told The Times of India.
The aircraft will be specially designed for VVIP travel and will accommodate advanced self-protection suites by Boeing company. The aircraft will be made available for exclusive use by President Pranab Mukherjee and Modi for "extra long-haul overseas flights".
The new aircraft will replace outdated Boeing 747 "Jumbo Jets" used for VVIP travel currently.
"These old aircraft do not have anti-missile defence systems, which the SPG holds is necessary. The decision was taken after a committee of secretaries from top ministries and aviation experts examined the matter," said a source.
The urgency for secure aircrafts for Indian VVIPs gained importance following the shooting down of Malaysian Airlines flight MH17 in Ukraine in September last year, when Modi's 747-400 aircraft was on its way back to New Delhi from Frankfurt.
Besides, the country was compelled to send a standby aircraft to Germany last month, as the 747-400 used by Modi developed a technical glitch during his three-nation tour.
Air HQ Communication Squadron at Palam, which is assigned the duties of ferrying the President, PM and other VVIPs in and around the country, will handle the new specially configured 777-300 (ER) aircraft.
The 777-300s will feature robust defence systems consisting of "radar warning receivers" and "missile-approach warning systems". The radar warning receivers will be able to sound an alert "if a hostile radar paints the aircraft before letting loose missiles".
Advanced electronic counter-measures in the new aircraft will have the ability to jam enemy radars. Its defence systems are designed "to shoot metal chaff or flares to throw off-track radar-guided or heat-seeking missiles".