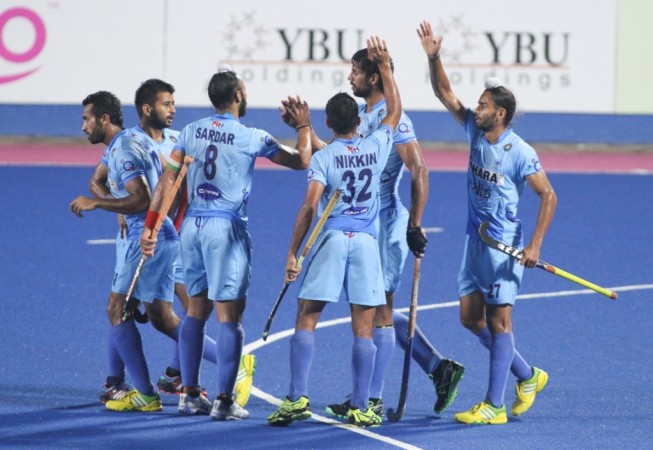 India were strongly tested by Canada in the Sultan Azlan Shah Cup, but managed to emerge victorious in Ipoh, Malaysia, score reading 3-1. Nikkin Thimmaiah, Harmanpreet Singh and Talwinder Singh scored for India.
Despite the win, India have not played quality hockey in the competition. They are yet to hit top gear, and with important games coming up against Pakistan, Malaysia and New Zealand, India need to improve upon their performance. Especially, their forwards need to find a way to convert those half chances into goals.
India got off to a brilliant start against Canada, with Thimmaiah scoring in the third minute of the game. Though Thimmaiah might have scored, the credit needs to go to Rupinder Pal Singh as he provided a perfect 70-80 yards pass to Ramandeep Singh, who fed the ball to the forward for a beautiful goal. Thimmaiah got into his zone as he nearly scored his second in the sixth minute, which was an inch wide only.
India took crucial lead, but the defenders made some silly errors in the dying minutes of the first quarter, and should be considered lucky for not being punished by Canada.
Though India looked good early in the second quarter, they could not take 2-0 lead despite some chances in front of goal. One has to give credit to Canada's defence, which looked solid at the back. On the other hand, it was Canada, who drew level with Keegan Pereria strike in the 23rd minute.
Canada grew confident with the goal and began to pressurise India with their offensive game as well. Canada finished off the first half with a flurry of attempts, but failed to take lead.
Both teams got their fair share of chances at goal in the first ten minutes of the third quarter, and neither team scored the crucial goal. However, Harmanpreet, who is India's upcoming drag-flicker, scored a goal in the 41st minute, via a penalty corner. With it, Harmanpreet is gradually establishing himself as one of the best drag-flickers in the country.
India got a number of chances in the same quarter to take two-goal lead, but their forwards lacked quality to score the third goal.
Early in the fourth quarter as well, Sardar Singh missed a golden opportunity to hand India two-goal cushion, but the captain hit the post after beating the goalkeeper. Ramandeep also missed a chance in the 57th minute. It is such failure in front of goal, which has been a major cause of concern for India in the competition.
With four minutes left for the game to end, Talwinder scored a field goal from close range to make it difficult for Canada to make a comeback.
India defeated Canada, but Sardar's team are capable of playing much better in the competition.