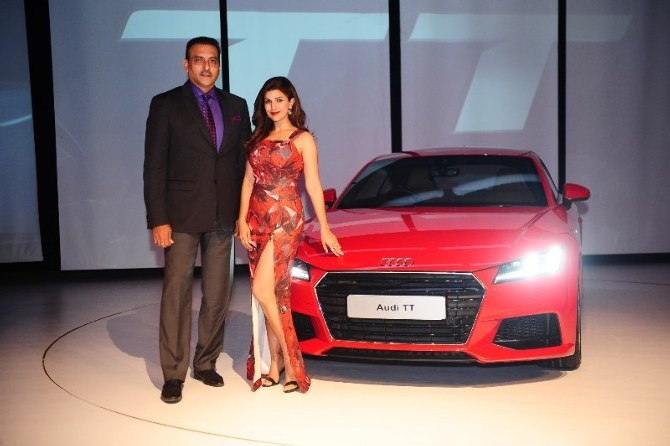 Cricket and Bollywood go hand in hand when it comes to dating, and some players have even married popular actresses. The latest player to reportedly fall for a Bollywood actress is former cricketer and India's head coach Ravi Shastri, who is rumoured to be dating actress Nimrat Kaur!
It is to be noted that in his heydays, Ravi Shastri and actress Amrita Singh (Sara Ali Khan's mother) were rumoured to be in a relationship.
Mumbai Mirror reports that Ravi Shastri has been dating Nimrat Kaur for two years now. The successful cricketer and commentator is separated from his wife Ritu, the report says.
But talking about his affair, Ravi Shastri categorically denied the rumours. "Nothing to say when it is the biggest load of cow dung," Mid-Day quoted Head coach of India cricket team as saying.
Nimrat Kaur took to Twitter to refute the rumours. She tweeted, "Fact: I may need a root canal. Fiction: Everything else I read about me today. More facts: Fiction can be more hurtful, Monday blues exist and I love ice cream. Here's to trash free happy days ahead," Kaur wrote.
Nimrat Kaur was recently seen in the web series The Test Case and was also the female lead in Akshay Kumar's film Airlift and the award-winning indie The Lunchbox, opposite Irrfan Khan. She has also starred in an international television series and several advertisements back home.
The tabloid report also states that Nimrat Kaur and Ravi Shastri have been together endorsing a luxury car brand of a German company since 2015. Is that where they met, during the first launch? Or did that endorsement deal happen because they were together?
Ravi Shastri has been recently been panned for India's bad show in England for the Test series, where the team is stationed currently.
There have been several cricketer-actress unions in the recent past, and many of them getting married, including Virat Kohli and Anushka Sharma, Harbhajan Singh and Geeta Basra, Yuvraj Singh and Hazel Keech (Yuvraj also reportedly dated Deepika Padukone briefly), and Zaheer Khan and Sagarika Ghatge.
In the past, West Indies cricketer Vivian Richards dated actress Neena Gupta and the two have a daughter, designer Masaba Gupta. Cricketer and Nawab Mansoor Ali Khan Pataudi married actress Sharmila Tagore, and the two had three children - actor-producer Saif Ali Khan, actress Soha Ali Khan, and Saba Ali Khan.