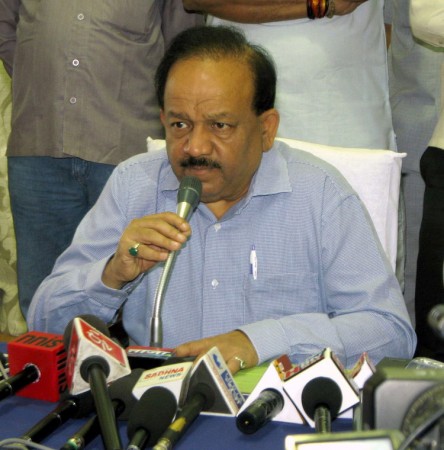 Union Health Minister of India, Harsh Vardhan, said on Monday that an agreement is to be signed with Bangladesh, enabling the exchange of knowledge and personnel, in the field of traditional medicine and homeopathy.
India and Bangladesh are expected to sign a Memorandum of Understanding (MoU) some time, later this week. This verbal agreement was made during the 67th meeting of the Regional Dhaka Committee of the World Health Organization (WHO).
"This is the age of holistic medicine. No single line of treatment is supreme. I intend to give the ancient wisdom contained in our evidence-based medicine," Vardhan said to Business Standard, before he left for Dhaka.
Vardhan said that this MoU will give the two countries more chances to collaborate on the research on this particular field.
Along with research opportunities, the MoU is also set to open up routes for exchange of pharmaceutical products, qualification, mutual systems of recognition, training and even experts.
Sources are speculating that the MoU would be similar to the "Delhi Declaration" that was adopted during the International Conference of Traditional Medicine in South East Asia, which took place last year. The declaration encouraged greater cooperation amongst the countries in this field of medicine.
"In rural Bangladesh, ayurveda, unani and homeopathy streams of medicine are highly popular. There are a large number of medicinal plants which are common to both the countries, giving scope for exchange of useful information," said Vardhan.
The four-day meet, which is all set to begin on Tuesday, in Dhaka, would have the presence of Health Ministers from all the countries in the South-East Asian region. A total of 11 countries are expected to send their respective Ministers to this meet.
The meeting would be inaugurated by Bangladesh Prime Minister Sheik Hasina, on Tuesday, at the Pan Pacific Sonargaon Hotel, in Dhaka. Dr Poonam Khetrapal Singh, South-East Asia Regional Director for the WHO, and Dr Margaret Chan, Director General, WHO, are also expected to join this event.
The main topic of discussion at this meet is how to face diseases that are carried by vectors. The 11 countries are also expected to come to an understanding on this issue, which is likely to be called the 'Dhaka Declaration', according to the WHO officials in Dhaka.
"Traditional medicine and setting its norms in this region, civil registration and vital statistics will feature the sessions of the regional committee," said Vismita Gupta Smith, who is the Public Information and Advocacy officer, WHO Regional Office, Delhi, told Bangladeshi newspaper The Daily Star.