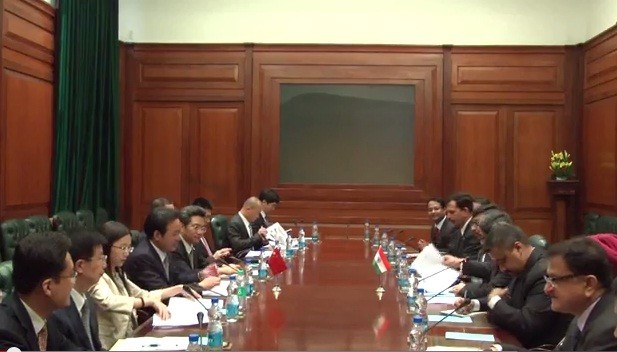 India and China signed Border Defence Cooperation Agreement on Wednesday, in a move to maintain confidence-building measures and peace keeping process along the contested border.
The agreement was signed between Indian Defence Secretary RK Mathur and Lieutenant General Sun Jianguo, Deputy Chief of General Staff, People's Liberation Army of China to ensure peace and tranquillity on the Sino-Indian border.
"We agreed that peace and tranquillity on our borders must remain the foundation for growth in the India-China relationship, even as we move forward the negotiations towards a fair, reasonable and mutually acceptable settlement to the India-China Boundary Question. This will be our strategic benchmark," India's Prime Minister Manmohan Singh said soon after talks.
The Line of Actual Control (LAC) is about 4000-kilometres long, traversing the states of Ladakh, Kashmir, Uttarakhand, Himachal, Sikkim and Arunachal.
The agreement mainly includes: Exchange of information, including information about military exercises, aircrafts, demolition operations and unmarked mines; measures against joint combat smuggling of arms, wildlife, natural disasters or infectious diseases that may affect or spread to the other side and other contrabands; holding flag meetings or border personnel meetings at designated places along the line of actual control in the India-China border areas; organising periodic meetings between Ministry of Defence, Army Commands of India and the Ministry of National Defence, officers of the relevant Military Regions of China.
The two nations share a tumultuous relationship over cross-border territories. An agreement signed between British India and Tibet in the Shimla Convention in 1914, called McMahon Line, was rejected by China. In 1962, India and China fought wars over the border. An agreement towards Line of Actual Control was signed in 1996 to resolve the dispute.
However, in 2006, Chinese ambassador to India Sun Yuxi made a controversial statement claiming that Arunachal Pradesh belonged to China which caused furore in India. In 2009, India announced that it would position addition military forces along the border.
The pact was also signed in the wake of repeated incursions by both nations along the border. In May, Chinese troops crossed into an area claimed by India along the LoC, leading to a three-week standoff between both forces.