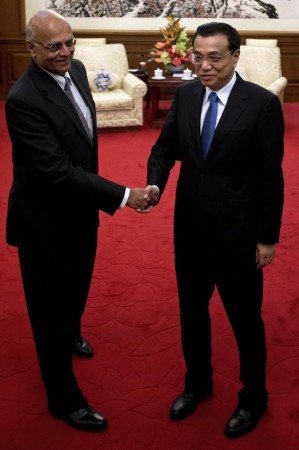 In a concerted effort to solve the impending border issue, India's National Security Adviser Shivshankar Menon and China's State Councillor Yang Jiechi will engage in the 16th round of India-China Special Representatives talks in Beijing.
The talks hold significance after the alleged incursion of Chinese troops in Depsang, Ladakh in April, which almost escalated into a big issue. India accused Chinese troops of crossing the Line of Actual Control (LAC), which the latter denied.
The Special Representatives - Shivshankar Menon and Yang Jiechi, of the two neighbouring countries met at the Diaoyutai State Guesthouse in central Beijing on Friday for the two-day talks scheduled for 28-29 June. They will talk on border issues between the countries.
Yang was optimistic that the talks with his Indian counterpart would "break new grounds" on the border issue.
"The two SRs (Special Representative) have a lofty mission and heavy responsibilities. I stand ready to work with you to build on the work of our predecessors and break new ground, to strive for the settlement of the China-India boundary question and to make greater progress in the China-India strategic and cooperative partnership in the new period," Yang said in the introductory remarks ahead of the talks.
Menon complimented his Chinese counterpart's statement that the recent visit of Chinese Premier Li Keqiang to New Delhi has injected fresh momentum into the relationship between the countries, saying it has reached a crucial stage.
"As you have said we are meeting at a moment when India-China relations have achieved a momentum and are moving in the right direction. It is our conviction that we are at a moment of strategic opportunity for this relationship," Menon said.
Menon will also meet Chinese Premier Li Keqiang on Friday.
All eyes will be on the outcome of the Indo-China Special Representatives talks after the Chinese troops' alleged incursion into Indian territory in Ladakh strained the relationship between the two countries and also marred Li Keqiang's New Delhi visit in May.
Interestingly, China withdrew their troops from the LAC after a few weeks and talked positive of their relationship with India. People's Liberation Army's outspoken Major General Luo Yuan told The Hindu on Thursday that China doesn't want see "unexpected" incidents along the border with India.
With India's Defence Minister AK Antony expected to visit China on 4 July, the relation between the neighbouring countries should improve with steps to be taken in solving the impending border issue.