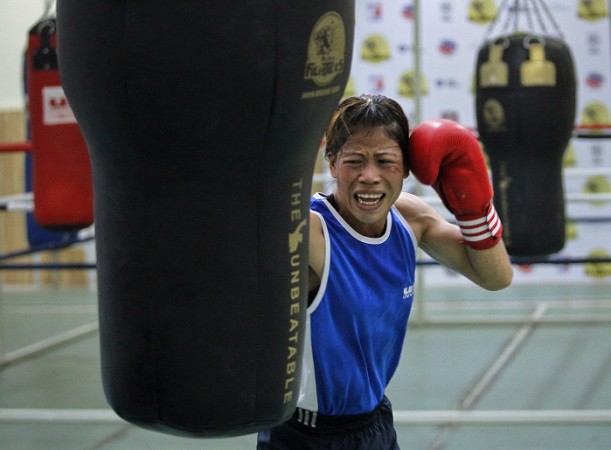 MC Mary Kom is India's pride in women's boxing as she has placed the country on the global map with her performances. Mary Kom may have won gold medals in the Women's World Amateur Boxing Championships and Asian Boxing championships in the past, but she still dreams of winning the elusive gold medal for India at the Olympics.
She won a bronze during the 2012 London Olympics, but Mary Kom will give it one last shot in the 2016 Rio Olympics, after which she will retire from the sport.
"I'm looking forward to bag another medal and do the country proud. My preparation is going on very well for the Rio Olympics," PTI quoted Mary Kom as saying.
Mary Kom, who is the pride of India, wants to train youngsters in her academy, once she retires, with the hope of helping these young boxers bring home an Olympic medal. The 32-year-old wants India to win more medals in the future.
"After Olympics, my focus is on training kids back home and I'll concentrate on my academy. I want India win more medals in boxing and that's why my target is to train youngsters in my academy. I want to share my experience with them," said Mary Kom.
After retiring from the sport of boxing, she is not going to follow in the footsteps of Vijender Singh, who went professional, as she wants to give time to her family and do some social work as well.
"As for me, this is my last Olympics," added Mary Kom. "At the same time I'm also a mother and I want to give time to my family. I want to do social work. I don't want to turn pro.
"Vijender turning pro is his decision... he has after all won so many medals for the country. I respect whatever he is doing."
Vijender going professional has been a huge setback for India as he was one of the biggest hopes for India in the men's boxing to win a medal in the 2016 Olympics. Vijender won bronze for India in the 2008 Beijing Olympic Games.