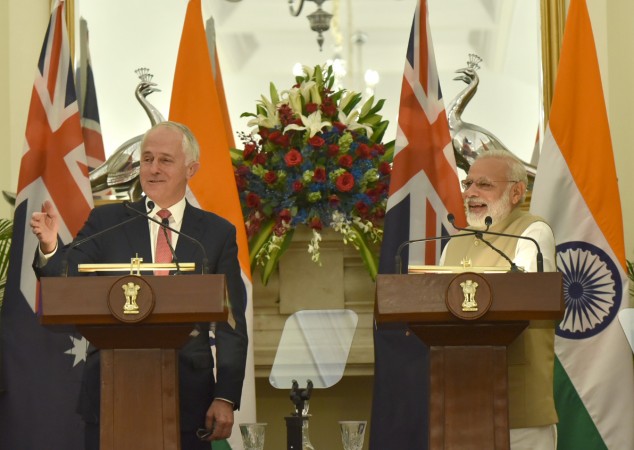 Australia's Prime Minister Malcolm Turnbull and Indian Prime Minister Narendra Modi had a fruitful meeting in Hyderabad House, New Delhi, on Monday. They signed six Memorandum of Understandings (MoU), including one on counter-terrorism cooperation.
The leaders also signed deals on civil aviation security, protection of the environment, cooperation in sports, health and medicine, and earth observation and satellite navigation.
During the delegation level talks, Modi said, "The values and principles of democracy and rule of law are common to both our nations."
Modi said that they reviewed the entire gamut of bilateral relations and a number of forward-looking decisions were taken to further strengthen their partnership. He added that education and research are the focus areas in their engagement.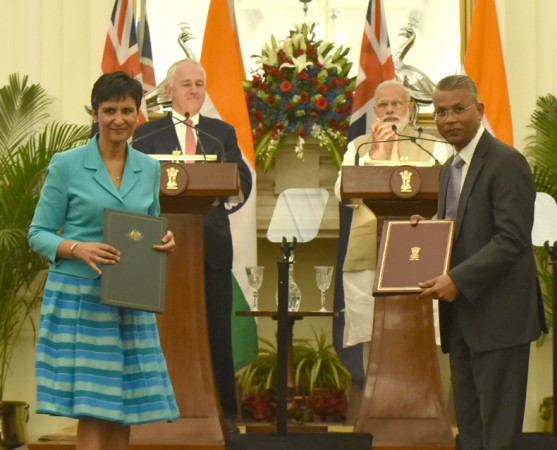 Modi and Turnbull jointly inaugurated TERI-DEAKIN Research Centre on Nano and Bio Technology, which he said was a classic example of cutting-edge bilateral science and technology cooperation.
Speaking about agreements that could benefit farmers, Modi said, "Our collaboration on bananas and pulses are two successful examples that will benefit millions including our farmers."
He also emphasised on the need for student exchanges, which is part of the education bill cooperation, and building world-class institutions in India.
In return, Turnbull said, "We will continue to ensure that we provide outstanding opportunities for Indian students."
The two prime ministers also spoke about Indo-Pacific cooperation in maintaining peace and stability in the region. He said that "challenges like terrorism and cyber security requires global strategy and solutions."
"PM expsd satisfctn at ongoing coop'n in defence & security incl bil. maritime exercises & exchgs on counter-terrorism & transnational crimes," tweeted MEA spokesperson Gopal Baglay.
PM @narendramodi : Australia is also home to nearly half-a-million ppl of Indian orgn. Their prosperity & vibrant culture enrich our partn'p

— Gopal Baglay (@MEAIndia) April 10, 2017
Modi also thanked Turnbull for holding "Confluence," a festival of Indian culture in many cities of Australia.