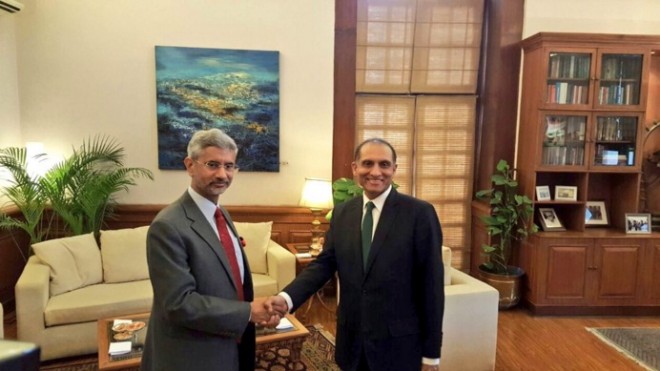 India's Foreign Secretary S Jaishankar has written to his Pakistani counterpart Aizaz Ahmad Chaudhry suggesting ways to expedite the trial of the perpetrators of the 26/11 Mumbai terror attacks that took place in 2008, External Affairs Ministry spokesperson Vikas Swarup told reporters in New Delhi.
"Well as you know the Mumbai terror attack probe has not progressed expeditiously, although it will soon be eight years since the dastardly attack.
In order to bring the guilty to book, our Foreign Secretary has recently written to his counterpart suggesting ways on how the investigation can be expedited through cooperation and legal channels.
"It shows our continuous focus is on terrorism. We want to bring the case to a conclusion," Swarup told the media.
Pakistan has still not responded to the letter that was handed over to Chaudhry on Sept. 9.
Both India and US have issued multiple statements over the past month asking Pakistan to act against those responsible for the 26/11 attacks.
The letter comes after the Federal Investigation Agency in Pakistan dropped charges against former Lashkar-e-Toiba militant Sufayan Zafar, who was accused of providing financial aid to terrorists for the Mumbai attacks.
Six accused — Abdul Wajid, Mazhar Iqbal, Hammad Amin Sadiq, Shahid Jameel Riaz, Jamil Ahmed and Younus Anjum — have been lodged in Rawalpindi's Adiyala Jail since 2009, for abetment to murder, attempted murder and planning and executing the 26/11 terror attacks.
Zakiur Rehman Lakhvi, LeT's operations commander and the mastermind of the terror attack, has been in hiding for over a year since he was granted bail.
More than 160 people were killed in the terror attacks that lasted for four days after 10 heavily-armed terrorists entered Mumbai through the Arabian Sea. One of the terrorists, Ajmal Kasab, was captured alive and then hanged to death in Nov. 2012, while the other nine terrorists were neutralised.