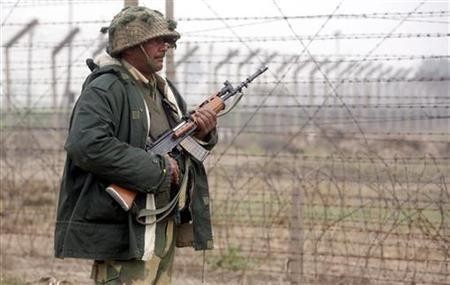 The Director Generals of Military Cooperation (DGMO) of India and Pakistan will be meeting on 24 December to hold talks on resolving the border issues between the two nations.
The Director General Military Operations of Pakistan has invited his Indian counterpart for a meeting to strengthen the mechanism to ensure ceasefire on the Line of Control, stated a communiqué from Ministry of Foreign Affairs, Government of Pakistan.
The Indian Army has confirmed that DGMO, Lieutenant General Vinod Bhatia would meet his Pakistani counterpart, Major General Amir Riaz on the Pakistan side of the Wagah border, reported The Hindu.
The DGMOs of both the nations had spoken on the hotline on the border issues on 25 and 29 but a face-to-face meeting is said to be happening after many years.
Nawaz Sharif, Prime Minister of Pakistan had then appealed to US seeking intervention to resolve the border issue between India and Pakistan, which was refused by both US and India saying that it was a bilateral issue. Manmohan Singh, Prime Minister of India and Sharif met in New York in September this year, where the concern of skirmishes was expressed. Both parties had then agreed to resolve the issue.
India has recorded over 200 incidents of ceasefire violations, which is said to be the highest number in a year in the last decade. While over 180 skirmishes occurred across the LoC, about 50 were recorded along the 200 kilometres long International Border in Jammu and Kashmir.
India and Pakistan inked a ceasefire agreement in November 2003 post Kargil Conflict. The territorial issue of Jammu and Kashmir dates back to 1947 since independence. India and Pakistan have fought two wars in 1965 and 1971 over the two states. The skirmishes since 1984 led to a full scale Kargil Conflict in 1999.
Ceasefire Violations by Pakistan
| | | | |
| --- | --- | --- | --- |
| Year | No. of Ceasefire violations | Dead | Injured |
| 2010 | 44 | 02 | 07 |
| 2011 | 51 | _ | 03 |
| 2012 | 93 | 01 | 06 |
| 2013 | 195 | 01 | 15 |