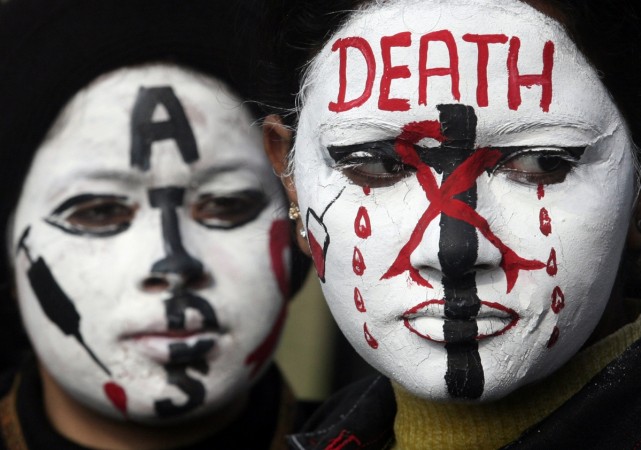 India has the third-highest number of HIV-infected people in the world after South Africa and Nigeria. The country is home to 21.7 lakh HIV-infected people in India, Union Health Minister JP Nadda informed the Lok Sabha Friday, The Press Trust of India reported.
He said the India HIV estimation 2015 report stated that the other two countries that had higher number of HIV positive patients were South Africa (68 lakh) and Nigeria (34 lakh).
"The total number of patients with CD4 count of less than 350 (HIV positive) is estimated as 13,45,678. Out of this, the number of people on Antiretroviral Therapy (ART) is 9.25 lakh making a coverage rate of 69 per cent," Nadda said.
The minister informed there are 524 ART centres and 1,094 link ART centres in the country providing free anti-retroviral treatment, treatment for opportunistic infections and counselling services to people living with HIV. He further said ART provides universal access to comprehensive, equitable, stigma-free, quality care, support and treatment services to all HIV positive patients.
A study published in the online medical journal, The Lancet, said there were over 2 million people co-infected with HIV and Hepatitis C virus (HCV), according to the PTI.
The study, which was conducted by the researchers from the University of Bristol and the London school of Hygiene & Tropical Medicine, said people who inject drugs are prone to HIV and acute HCV infections.
The study reviewed 783 medical studies worldwide to build the first global estimates on the prevalence of HIV/HCV co-infection as a public health problem.
The study said the greatest burden of HIV/HCV co-infection is in Eastern Europe and central Asia, where there are an estimated 607,700 cases (27 percent of all cases, particularly among people who inject drugs.
The sub-Saharan African region accounted for 19 percent of all cases, with 429,600 cases, due to high burdens of HIV, according to the study.